Join the conversation on integration and interoperability at HETT Reset
In anticipation of next week's HETT Show, head of healthcare Glen Hodgson, shares highlights of what the integration and interoperability theatre will have in store.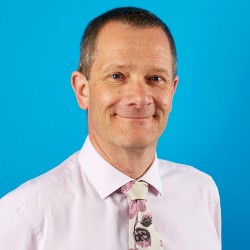 For the fourth year running, GS1 UK will proudly be supporting the Healthcare Excellence Through Technology e-learning event (HETT Reset), on 8 – 12 February, one of the UK's leading digital health technology events.

The last 12 months has seen an unprecedented acceleration in the uptake of digital health services and healthtech. With the new year comes new opportunities.

Now is the time for the industry to come together, share our progress, and continue showing resilience as we make our way through the months ahead.

Designed by healthcare professionals, for healthcare professionals – the weeklong online event will focus on:
Healthcare reset
Culture and implementation
Integration and interoperability
Digital maturity
Digitally empowered patient
On day three, Wednesday 10 February, I will be chairing in the Integration and Interoperability theatre, getting to the crux of healthcare's most formidable triumphs, challenges, and opportunities in this space.
There's a fantastic array of speakers and topics to really spark those conversations. Here's a snapshot of what will be in store.
We'll also be hosting a dedicated GS1 panel entitled: "How information sharing is a matter of patient safety" with esteemed industry thought leaders:
Rt Hon Lord Philip Hunt PC OBE, president of GS1 UK
Professor Sir Terence Stephenson, Nuffield professor of child health at University College London, and chair of Health Research Authority
Graeme Tunbridge, director of devices at MHRA
Professor Andrew Goddard, president of Royal College of Physicians
We'll be using this time to delve into the detail around the value of traceability in a clinical setting, debate the greyer areas of data sharing in the conflict between duty of care vs. the duty of confidentiality, and discuss the impact and consequences of the suspension of Section 251. To round off we will then move on to explore the patient safety benefits of information sharing to reduce medical errors and meet the requirements of the forthcoming Medicines and Medical Devices Bill.
We'll be counting down to when we "go live", so if you aren't already following us now's the perfect time! You can follow me on Twitter and you can also follow our GS1 UK healthcare Twitter page too.
This is just a small insight into what sessions are on the horizon. You can peruse the full agenda on the HETT website.
I hope to see as many of you there as possible, to join us live, so why not register to get involved in the conversation.
If you are unable to make it to any of the sessions, you can still register for access to catch up on on-demand. Where possible, the content will be available for 30-days after the event.
See you next week!