This area is regularly updated, and the questions below are organised in the order of popularity.
If your question isn't here, then contact us or place your question in the pop up that will appear on the screen.
A Global Trade Item Number (GTIN) is a number that uniquely identifies a product. You see them beneath the barcodes on almost every product in the world. Which is why they're often called 'barcode numbers'. In the UK and Europe they're usually 13 digits long, in the US 12. You might see shorter 8 digit numbers, used on smaller products. There are even 14 digit versions, to identify cases of products. The same numbers are used to identify products sold online too. The important thing to know is that they are all licensed from GS1 organisations around the world – to guarantee their uniqueness. When you join GS1 UK you can create all the GTINs you need.
A European Article Number (EAN) is the name given to the standard barcode image you see on most products sold around the world. It represents the number – or GTIN – you see beneath it. Retailers and marketplaces often ask for 'EANs' when you list your products with them. What they are really asking for is the GTIN, or barcode number, which you can create when you join GS1 UK.
A Universal Product Code (UPC) is the name given to the standard barcode used on products sold in North America. It represents the number – or GTIN – you see beneath the barcode. These days it's completely compatible with the EAN barcodes used everywhere else in the world. So if you get asked for a UPC by a retailer or marketplace, they're really asking for the GTIN, or barcode number, for your product, which you can create when you join GS1 UK.
A GLN, or Global Location Number, is used to identify your business as a legal entity, often via the use of EDI (Electronic Data Interchange). It can also be used to identify different offices, warehouses or even specific shelves within a warehouse. If you're selling to major retailers they'll often ask for your GLN. You can create your own GLNs once you're a member of GS1 UK – from the unique company prefix we licence to you.
To identify products or items you sell, you'll need a unique number, and each number must start with your GS1 Company Prefix.
Your Company Prefix will contain between 6 and 11 digits – depending on how many GTINs you need. You can use your prefix to create different types of numbers depending on whether you're identifying products, cases, pallets, assets, locations or other items.
Yes, GS1 is a global system, and the uniqueness and operability of all GTINs are not affected at all by Brexit.
Yes, when you join GS1 UK, you will be provided with barcodes that you can be used in the UK, as well as internationally. As we are a global standards organisation, we ensure our GS1 barcodes work everyhere across the globe. This means that if you are selling in Europe, Africa, Asia, Australia, North America or South America, you'll be pleased to know you can use GS1 UK barcodes. Our barcodes will work anywhere.
You can't in any instance, re-use numbers. Each individual item should have their own unique number. Once a product is in the market it keeps its number, regardless of if the product is still available or not. So make sure to place the details on your numbers carefully, as once you create a barcode for a product, you can't change it.
A GTIN usually consists of 13 digits. The first 7 to 9 digits are your Global Company Prefix (GCP) – which you license from GS1. The length of the prefix determines how many numbers you receive – the shorter the GCP, the more numbers you get. The last digit of the GTIN is always a check digit, calculated automatically to ensure integrity. So, the remaining digits in the middle are used to uniquely identify your products – and these form your GTIN range. Once you exhaust the numbers within your current range, it's impossible to add more numbers beginning with the same prefix. Therefore, a new prefix is issued. You can learn more about the GS1 Company Prefix below. And you can licence another GS1 Company Prefix from the My GS1 area of the website. Log in here to get started.
GTINs are licensed by GS1, they are never sold. The ownership of the numbers therefore remains with GS1 and the numbers issued to a member cannot be sold to another company. This ensures the ongoing integrity of the system, for the benefit of everyone.
The GTIN is always shown beneath the product barcode. If there isn't one then you can use the product name to search for the GTIN online. If you find a GTIN then you can check if it's valid using the Global Electronic Party Information Registry – or GEPIR. This will bring up the company and product name if it's a genuine GS1 number, as well as the country that issued the number.
You've more than likely seen other websites offering barcodes (GTIN's) at a cheap one-off rate. The problem with these barcodes, are:
They've been previously owned by others and essentially their 'DNA' is still associated with these original purchasers of the barcodes
Using them will ensure you will be limited to where you can sell your products with the likes of Amazon and major retailers not accepting them
When you scan them other product information, other than your own will be shown
The only way to ensure your barcodes are your own, and not pre-brought is to get them from GS1. The added benefits will be:
You will be able to use them globally, not just in the UK
You will be provided with a minimum of 100 barcode numbers
You will be able to manage your list of numbers in our login area
You will have access to training, webinars and selected events
You will be have access to our community partners who will help with your business growth
Free support online and over the phone with our support team
Check who your numbers are licensed to
Why not calculate your membership today using our online calculator to discover how much it will be to join us.

Calculate your membership
There are a number of reasons, why your GTINS/ barcodes have not been accepted by Amazon. Troubleshoot through the error list below to resolve the problem:
Invalid error: usually due to not selecting EAN as the product ID type

A very common problem, and it's likely that you have selected the incorrect product ID for your listing. Below is how you can rectify the problem:

When you upload your product into Amazon Seller Central, the first attribute you are asked for is the product ID. This the unique GTIN provided to you by GS1 UK (if you are selling someone else's products then you will need to ask them for the numbers).

Amazon allows you to add:
UPC - Amazon is expecting a 12 digit number. It is very unlikely that you would need to select UPC as the 12 digit numbers are for use in certain retailers in the USA only
EAN - Amazon is expecting a 13 digit number. Therefore, if you are selling a single product, sometimes called a SKU or a child product if you have variants, you will need to select this option
GTIN - Amazon is expecting a 14 digit number. If you are selling a case or box of products - for example a carton of 6 products (that would usually be sold separately) all together, then you need to select GTIN and input the GTIN14 that you have assigned to it
A GCID is a number that Amazon gives your product after you've registered your brand to use if you have had a GTIN exemption
Please Note: After April 17, 2018, GCIDs can no longer be used in place of a UPC, EAN, JAN or ISBN to create ASINs. If your brand has been approved for the new Brand Registry programme and you do not have UPCs, EANs, JANs or ISBNs for your products, please apply for GTIN Exemption.
For more info, follow the instructions in the video below:
Doesn't match: Usually an issue with the details of the brand name being different to the company details registered with Amazon and/or GS1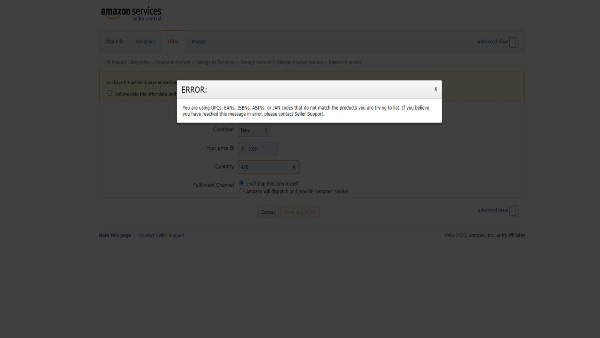 You need to provide Amazon with proof of the connection between the seller and the brand. Things like trademark certificate, invoices to show you bought the stock from the brand or a letter of authorisation to show you are allowed to sell that brand.
Potential match:The product you have listed may already be in the Amazon catalogue. You need to check to see if it exists already.
There is another listing with the same product. You will therefore not be able to use the GTIN.
Note: If you have become a member with us recently, Amazon may take up to 72 hours to recognise your GTINs before they can be used for your listing. 
We share data of new members with Amazon on a daily basis. Amazon process this information so it can take up to 72 hours from joining GS1 UK, for your numbers to be valid on Amazon.
Remember you'll need to select the option for EAN for product identifier type for Amazon, not GTIN, unless you are listing an outer case rather than a single unit.
Regardless of what Amazon country site you are selling your products on, you can still use our GS1 UK barcodes.
Remember, we will issue you a GTIN13, which Amazon refers to as EANs, so be sure to select this as the product ID type when listing.
A GTIN should always be traceable back to the brand owner. If you buy a GTIN from a eslewhere (also known as resellers) this will never be the case as the number will either be made up or registered to another company. This means it will never be associated with your brand or product correctly. If you want to sell your products in retail stores, the GTIN will be checked and your products will be rejected as the GTIN will not be registered to you. If you have the product listed in Amazon's brand registry then yes, you can update this. And on eBay, it can be updated at any time too.
On Amazon, always make sure you register your branded products on the Amazon brand registry – this gives you control over the listing and will make it easier for you to get incorrectly listed products removed. On other marketplaces you will need to report an infringement and resolve it with them as two different products shouldn't be using the same GTIN. Marketplaces are cleaning their catalogue of these scenarios as it damages customer trust if the wrong product is received. In any other case, contact us and we can investigate further.
There are two types of reviews - seller and product. GTINs should only link product reviews and if the review is referencing a seller then you can ask eBay to remove this by clicking on 'report' (the exclamation mark button), next to the review. Read our article GS1 product identifiers powering eBay's product reviews.
GS1 cannot control how search engine algorithms are written or how SEO works – but we know that product identifiers are used to track products and their data.
Google state: We've found that providing GTINs in your product data feed increases the likelihood that your offers are matched to the Google Shopping product catalog. This helps us surface relevant, accurate results on Google Shopping; in fact, early experiments indicate that offers matched to the catalog receive up to 40% more user clicks than those that do not . Although there is no silver bullet for SEO that will get you to first place, it's about fulfilling as many requirements as possible to ensure the best possible listing on marketplaces and search engines, and the GTIN is one of these.
GS1 is a neutral and not-for-profit global organisation, with offices in 115 countries. We were formed by industry, coming together to create a system and common standard for the unique identification of products. Various sectors, from retail, marketplaces and healthcare and search engines too, have requested that their trading partners use GS1 standards, as they see the clear benefit of a single global system of unique product identification.
As a not-for-profit organisation, GS1 UK is owned by our members, who are in turn represented by a supervisory board of elected members. This board is representative of the industries we work in. We are regulated by the board who meet throughout the year, and our annual general meeting, which all members are invited to attend.
We also have advisory boards made up of members from our major sectors.
GS1 license GTINs to brand owners and we work with retailers and marketplaces to validate the correct use of GTINs to ensure the integrity of the system.