Our standards and barcodes have been powering our members' progress for more than 40 years – providing a solid foundation for businesses of all sizes to sell their products all over the world.
As a member of GS1 UK you'll have instant access to a wealth of services that will support you as you grow. These include our authentic GS1 barcodes to capture and share information about your products, assets and locations. Access to the standards that are simplifying supply chains and making UK businesses more efficient. And the latest news and insights from our industry experts.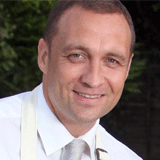 "
It's so much more than just barcodes... It's those extra services, help and support that really make a difference."
Andrew Cairns
CEO of Mammy Jamia's
As a member of GS1 UK, you'll be able to identify your products and use our standards. You'll learn about all the latest industry developments and have opportunities to improve your business – through networking and knowledge-sharing with industry experts.
Member benefits
Get a minimum of 10 Global Trade Item Numbers (GTINs) for your products.
Easily manage your numbers and product data online through the My Numberbank portal.
Access free member support by phone or online.
Create barcode images for your products and packaging with our easy-to-use online tool.
Discover how GS1 standards, like Global Location Numbers (GLNs), can transform your business.
Access training and education about our standards and how they can benefit your business.
Membership fees
We base our fee structure on annual turnover, which means it's easier for smaller businesses to enter the market and start selling.
Please note all prices exclude VAT

| Turnover | Annual licence fee | GTINs |
| --- | --- | --- |
| up to £0.10m | £50 | 10 |
| up to £0.50m | £100 | 100 |
| up to £0.50m | £119 | 1,000 |
| £0.5m to £1m | £131 | 1,000 |
| £1m to £10m | £203 | 1,000 |
| £10m to £50m | £318 | 10,000 |
| £50m to £100m | £1,333 | 10,000 |
| £100m to £250m | £1,743 | 10,000 |
| £250m to £500m | £2,400 | 100,000 |
| £500m to £1bn | £2,900 | 100,000 |
| Over £1bn | £3,450 | 100,000 |
Become a GS1 UK member today
Join our thriving community of UK businesses using GS1 standards to transform their businesses. You can become a member in a matter of minutes and be up and running, identifying and barcoding your products straight away.