Major developments in the retail revolution for all
The last two months have been very impactful for GS1 UK.
After a consultation period that began with the Digital DNA programme and a charter signed by 12 leading grocery retailers and brands in 2017, we now have our first major retailers and suppliers signed up to productDNA.
First to come onboard were Tesco and Ocado in June, followed by Nestlé and Unilever in July. These will be the first of many in the retail world that realise that a shared problem can be solved by a common retail language.
But don't just take my word as gospel, here's what those intimately involved in the adoption of productDNA so far have said about the service:
"Retailers and suppliers spend too much time on chasing, checking and re-keying product data. productDNA delivers a single product data catalogue that we will all own and trust. It will mean we can focus on what's really important to our businesses, delivering innovation and improving the customer experience." Mark Watson, Director of Planning & Supply Chain at Ocado
"When adopted universally across the industry, productDNA will give retailers increased confidence in the product data they receive, as well as helping to reduce the amount of inaccurate data and increasing the efficiency of our product data processing." George Wright, Commercial Director, Fresh Food at Tesco
"The drive towards efficient end-to-end supply chains eradicating inefficiency and waste is of huge significance to us at Nestlé. productDNA is part of our strategy to improve efficiency and deliver better value to consumers and customers." David Hix, Supply Chain Director, Nestlé UK
And here's Richard Sadler, Customer Operations Director at Unileverexplaining why the world's largest consumer goods company has chosen to go down the productDNA route.
It's been a great start to a fantastic journey and there are some ambitious targets ahead. We're confident that productDNA can be the jump off point to start the retail revolution the industry so desperately needs.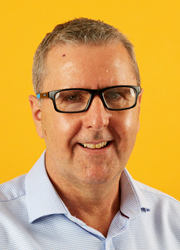 E: jim.dickson@gs1uk.org
T: +44 (0)7823 526354


www.linkedin.com/jim-dickson
---