GS1 UK and Amazon team up to answer your barcode questions
A few weeks ago, we ran a joint webinar with Amazon where we discussed all things barcode related. It was great session with loads of questions from Amazon sellers, including:
What is the difference between a UPC, EAN and GTIN?
When should I assign a new barcode number?
What are the benefits of using barcode numbers on Amazon?
For those of you who weren't able to make the live webinar, we've provided the answers to the most commonly asked questions below.
If you still have any questions surrounding your Amazon account or how to allocate barcode numbers to your products, please get in touch with our lovely member support team by emailing support@gs1uk.org, or calling us on 020 7092 3501.
So, here goes…

I just bought some barcodes, why are they not being accepted by Amazon?
There are a number of reasons, why your GTINS/ barcodes have not been accepted by Amazon. Troubleshoot through the error list below to resolve the problem:
Invalid error: usually due to not selecting EAN as the product ID type

A very common problem, and it's likely that you have selected the incorrect product ID for your listing. Below is how you can rectify the problem:

When you upload your product into Amazon Seller Central, the first attribute you are asked for is the product ID. This the unique GTIN provided to you by GS1 UK (if you are selling someone else's products then you will need to ask them for the numbers).

Amazon allows you to add:
UPC - Amazon is expecting a 12 digit number. It is very unlikely that you would need to select UPC as the 12 digit numbers are for use in certain retailers in the USA only
EAN - Amazon is expecting a 13 digit number. Therefore, if you are selling a single product, sometimes called a SKU or a child product if you have variants, you will need to select this option
GTIN - Amazon is expecting a 14 digit number. If you are selling a case or box of products - for example a carton of 6 products (that would usually be sold separately) all together, then you need to select GTIN and input the GTIN14 that you have assigned to it
A GCID is a number that Amazon gives your product after you've registered your brand to use if you have had a GTIN exemption
Please Note: After April 17, 2018, GCIDs can no longer be used in place of a UPC, EAN, JAN or ISBN to create ASINs. If your brand has been approved for the new Brand Registry programme and you do not have UPCs, EANs, JANs or ISBNs for your products, please apply for GTIN Exemption.
For more info, follow the instructions in the video below:
Doesn't match: Usually an issue with the details of the brand name being different to the company details registered with Amazon and/or GS1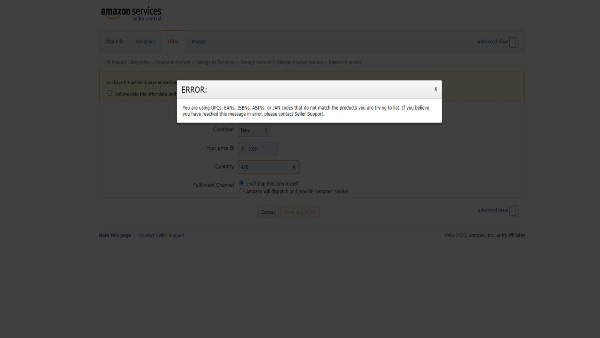 You need to provide Amazon with proof of the connection between the seller and the brand. Things like trademark certificate, invoices to show you bought the stock from the brand or a letter of authorisation to show you are allowed to sell that brand.
Potential match:The product you have listed may already be in the Amazon catalogue. You need to check to see if it exists already.