Google endorses GS1 projects
At this year's GS1 Global Forum, Google endorsed the importance of GS1 projects to improve search and overall customer experience. Our marketplace engagement manager, Lorna Leaver, shares highlights from Google's keynote presentation and provides some practical tips that you can implement to improve your online visibility.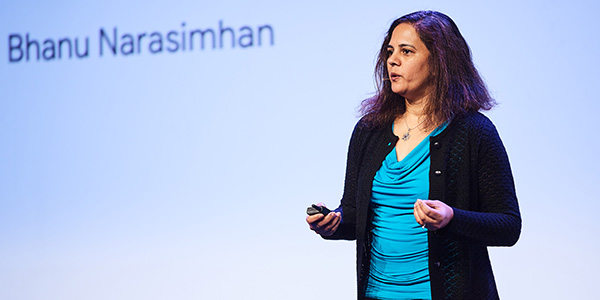 Each year, our GS1 colleagues from around the world come together to share, connect and learn about global standards at our GS1 Global Forum in Brussels. Think of it as a mini UN, with a lot more barcode talk!
At this year's forum, we had representatives from 90 of our 114 offices in attendance, and a great line-up of industry speakers. One that particularly stood out for me was Bhanu Narasimhan, director of product management at Google.
It's always great to hear from industry leaders on the impact of our standards and how they are helping them solve business problems. It is even better when it's a global tech giant, like Google. This was one of the highlights of my week!
Narasimhan began by setting the scene with some insights into what is going on in the market. Currently, they are seeing a three-fold increase in searches that include "near me" or "open now", illustrating that consumers are looking for a seamless experience across multiple channels.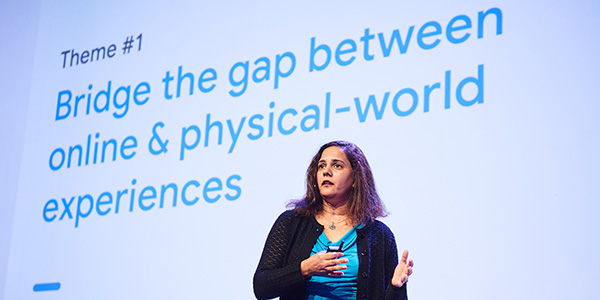 She then laid out five themes that she wanted GS1, and all big brands and retailers, to do:
Bridge the gap between the physical and the digital world
Use data to create a personalised experience
Leverage data for growth and operational excellence
Build with speed in mind
Close the loop and build trust
GS1 and Google collaboration
Narasimhan closed the presentation by showing what Google are looking forward to collaborating on with GS1. It was great to hear their endorsement of some of our key strategic projects and standards, such as:
Increasing GTIN adoption
Ensuring every product has a Global Trade Item Number (GTIN), and that it is discoverable on web-pages as part of its data set.
Use of GS1 Web Vocabulary
Using our schema.org extension of web-based attributes to help Google surface more relevant search results to consumers.
Google develops a better understanding of the context of web-page content. So, when Google "sees" grey mentioned on a web-page, is can decipher whether it is referring to a grey-coloured shoe or a grey sky?
Adoption of Verified by GS1
Verified by GS1 is the global registry of licenses and GTINs with product IDs that GS1 is fast-tracking at the moment. Nine countries have currently gone live with the project and another 14 will follow in 2020.
This registry will enable better clarity of product identification for Google and other retailers, marketplaces and even shoppers.
Global Model Number
This is a new unique identifier that sits above the GTIN - in the same way a parent SKU or style number would. Currently, the market just uses internal numbers for these and GTINs at the variant level.
What does this mean for GS1 members?
Given that Google are going to be endorsing the projects we have mentioned, and are actively looking for and using the data generated as part of these standards, we need our members to start getting ready for this.
If you are a GS1 member, then it is very likely you are already using GTINs to identify your products. That's a great start.
However, you need to make sure that you are considering the GTIN allocation rules when doing this. For example, putting a new number on the product when you make a change to ingredients or package size.
A recent study found that 40 per cent of our members are unaware of these rules, which will have implications for Google when trying to gather product data and for consumers who may receive a different version of the product they've ordered.
For Google, and other retail channels, to be able to discover and validate your product in Verifed by GS1, you'll need to make sure you've added all your core product data into your My GS1 account, so that we can upload it to the global registry. After all, what use is an identifier if you don't tell us what you have identified with it?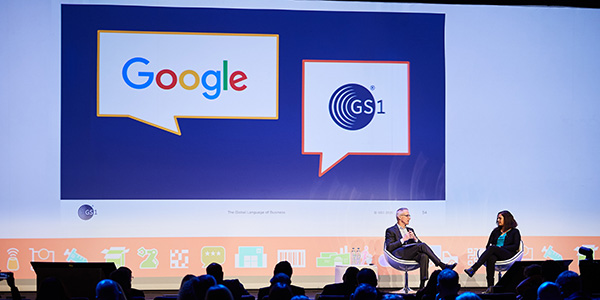 Finally, something you can look at implementing right now into your data sets is GS1 Web Vocabulary attributes, which you can surface on your web-pages, usually through the meta data sections of site platforms.
To summarise, make sure you:
If you want to know more about how we work with Google or any of the standards mentioned in this article, contact our standards expert Ben Clarke by emailing ben.clarke@gs1uk.org or calling 020 7092 3541