Since its adoption by the retail industry in April 1973, the barcode has played a significant role in building the modern world in which we live. 
Today, this remarkably humble symbol is practically omnipresent. Barcodes are all around us; found on almost every product we see and touch, impacting almost every aspect of our daily lives. But do British consumers understand how they work, recognise their impact, or know their origins?
To celebrate 50 years since the barcode changed the course of global commerce forever, we surveyed of 2,000 nationally representative UK adults to find out more.
Powering global commerce
The combinations of vertical black lines and white spaces of varying thickness and height that make up each barcode are essentially visual representations of the 13 digit numbers found underneath – the Global Trade Item Number (GTIN).
These globally unique numbers power each and every barcode by identifying specific products and their relevant information. Computers linked to laser scanners can read these codes and use the exact combination of bars, spaces and numbers to retrieve the data for that product.
Today, barcodes are found on not only household items that come from supermarkets or retail stores, but licenses, rental cars, checked luggage, medical devices patient wrist bands and much more. In each case, they identify a product or person and encode important information.
It has revolutionised our day-to-day in ways most do not realise – keeping our shelves stocked with products and ingredients from around the world, helping us find and buy products online, ensuring what we consume is genuine and safe, helping the NHS save time, money and lives – and much more.
Over 2 million companies and 1 billion products around the world currently use GS1 barcode, boosting efficiency and providing greater trust and transparency for consumers and businesses alike.
A cultural icon
The barcode has worked its way into our cultural fabric, being used across the globe 1.5 billion times more each day than Google's search engine (8.5 billion).
Our research found that, each day, it is seen more often by UK consumers than household logos like Apple, Instagram, Twitter, McDonalds, TikTok, Spotify, Nike and Starbucks.
When it comes to food and drink packaging, the top three most recognisable symbols were the Tidyman symbol / Keep Britain Tidy (57 per cent), Plastic Recycling (52 per cent) and the Barcode (50 per cent).
On average, people estimate that they see 20 barcodes a day, most typically when buying groceries (70 per cent), buying clothing items (31 per cent) loyalty cards (27 per cent), buying books (25 per cent) and sending parcels and envelopes in the mail (24 per cent).
Two thirds of respondents said the barcode is a useful iconographic in their everyday life (65 per cent), with more than a quarter (28 per cent) saying it's very useful.
Despite its ubiquity, the humble barcode has largely been taken for granted. Although 63 per cent of consumers recognise its role in identifying products, a third do not realise just how significantly they continue to impact our everyday lives.
Whilst just 17 per cent recognised their importance in food safety, despite their potentially lifesaving role in ensuring supply chain transparency.
An unsung hero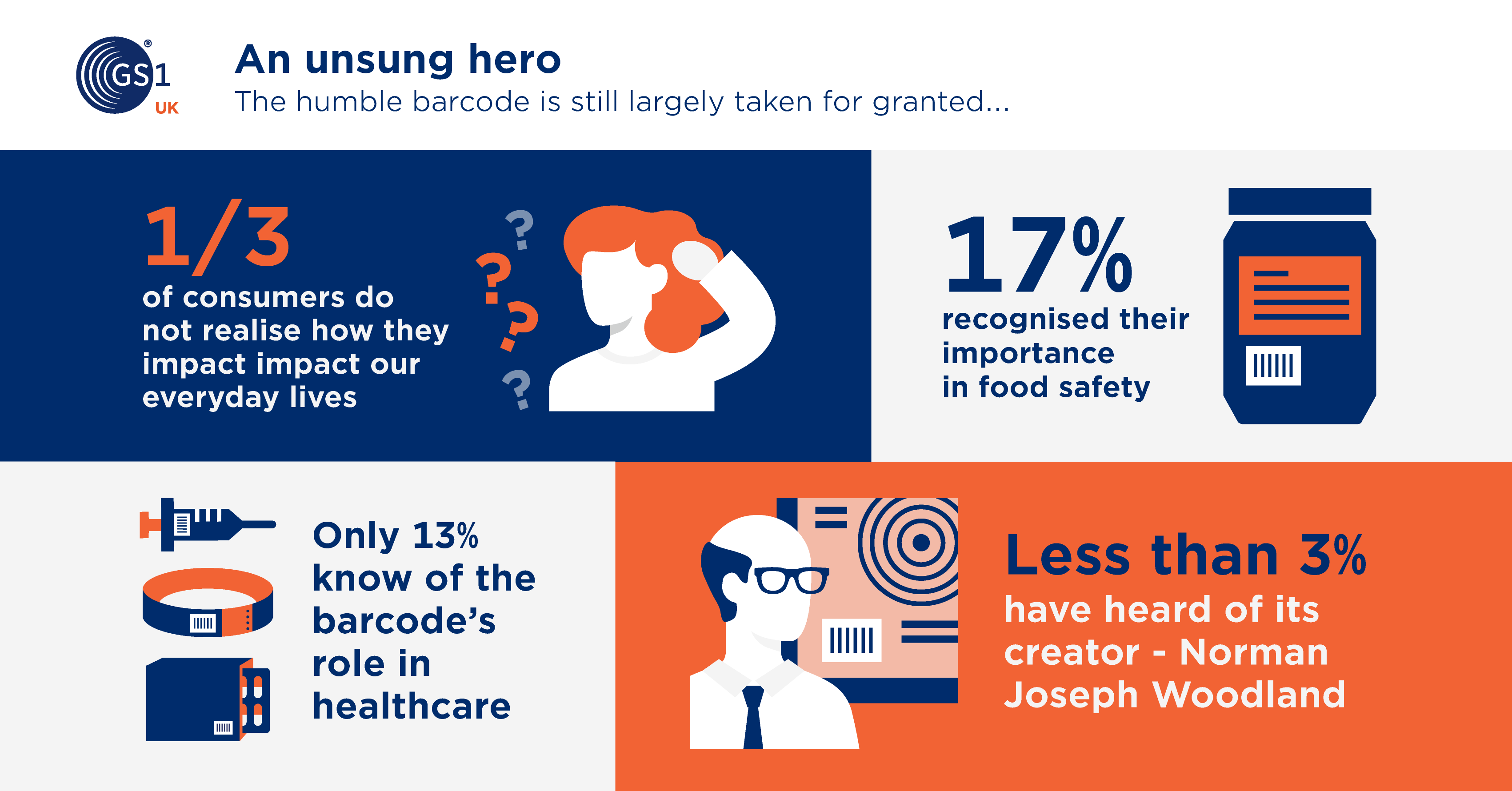 It also emerged that only 13 per cent knew the barcode's role in healthcare. This is despite the fact that if the barcode was adopted by every hospital in England, over 3.2 million hours of staff time and nearly £120 million could be saved and re-invested back into patient care.
Although the barcode has been powering progress for half a century, our research also found that, on average, UK consumers think the barcode has been around for less than 30 years.
Its origins were known even less. Of those surveyed, just three per cent could identify its creator, Norman Joseph Woodland, who drew the worlds first ever barcode in the sand of a Florida beach in 1948.
This is especially shocking when comparing Woodland against a list of inventors and researchers of similar stature. Bill Gates topped the list (80 per cent) followed by Marie Curie (75 per cent) and James Dyson (69 per cent) – whilst the inventor of the internet Sir. Tim Berners Lee was recognised by a third (30 per cent).
2D: the next generation of barcodes
As the barcode turns fifty, the next-generation of on-pack labelling, promises to revolutionise our lives once again.
By combining two of the most important inventions of the 20th century, the internet and the barcode, this next generation of barcodes - QR codes powered by GS1 standards - will connect physical products to the digital world. This allows consumers to access virtually limitless, real-time information about the products they buy at the scan of a smartphone, – helping them make more sustainable, safer and smarter purchasing decisions.
Over 90 per cent of UK adults own a smartphone and our research found that three in five already use QR codes in everyday life, most commonly when buying groceries.
Adoption of these next generation barcodes is set increase as a report from GS1 US recently revealed that 82 per cent of retailers and 92 per cent of brand owners supported transitioning from the linear barcode to a 2D code within the next five years.
GS1 is now collaborating with industry to accelerate this global transition, working with stakeholders across multiple sectors to drive adoption of a single, smarter, data-rich 2D code that allows everything, from scanners to smart phones, to easily obtain information about a product. A single code that has the power to improve supply chain visibility, ensure product safety and bring a wealth of information to consumers, both at home and in store.