Understanding intellectual property
GS1 UK are working with Snapdragon – the industry experts on combating illicit online trade by identifying and removing counterfeits for sale
Snapdragon are a great association for GS1 UK, as Global Trade Item Numbers (GTINs) are increasingly being mandated by the online marketplaces, as a way to reduce counterfeits.
In this guest blog, Snapdragon talk about everything a small business needs to know about intellectual property.
Understanding Intellectual Property (IP)

Did you know, according to the Federation of Small Businesses, one third of SMEs rely on intellectual property rights for between 75 per cent and 100 per cent of their revenue, making it one of their most valuable assets? Protecting your IP should be considered a key priority, and part of any brand's strategy. We hope that, no matter how much or little you currently know about your own brand's IP portfolio, this article will point you in the right direction of understanding and utilising your IP, no matter where you are on the journey.
Intellectual Property Breakdown
Registering your Intellectual Property (IP) is, without a doubt, the most effective form of protection for your brand.

A trademark in the UK can cost as little as £200, and the basic fee of a European Union trademark registration, which provides protection in all 28 countries of the European Union, starts from €850 for a single class of goods.
Design rights are the linchpin of creative industries, covering the look, shape and/or function of new products. In the UK, registration is capped at £60 for your first design, and you can apply for a European Union registered Community design, online, for €350.

Patents, on the other hand, can be expensive and difficult to obtain. Free advice on the UK Government's website will help you to ascertain whether or not a patent is right for your business. If your company cannot yet afford the costs and fees associated with patent fillings, or is still perfecting the details of the invention, provisional patent applications are a reasonable way to preserve intellectual property rights. These are inexpensive and allow your company up to 12 months to continue developing its invention before a non-provisional patent application is required.

Unlike the rest, copyright registration is not obligatory. Indeed, in 167 countries of the world, copyright arises automatically upon creation, making it the most common IP enjoyed by brands worldwide.

In many regions the key to successful IP registration depends on originality and novelty, meaning that maintaining secrecy is vital prior to application. Start-ups are often eager to impress potential investors, which can leave owners vulnerable to disclosing copyrights, trademarks and other IP when speaking about their brand. Taking steps to protect yourself, such as using NDAs and consulting with IP attorneys, could protect you from costly mistakes further down the line.

Although registering your IP rights at home and abroad may seem daunting, help is at hand. The Intellectual Property (IP) Attaché Network provides free, confidential advice on global IP-related issues for any UK SMEs looking to take their business further afield.
How to Use Your IP
Once IP has been granted it is not automatically enforced, making it vital to take proactive, protective measures, in order to tackle IP abuse and, just as crucially, avoid potentially losing your IP rights.

If you encounter cases of infringement, online or offline, use your IP rights. In addition, monitor the internet, specifically online marketplaces, social media platforms and auction sites. Each of these portals will have a policy relating to intellectual property which provides guidance on reporting infringement. Consider how you might, in a non-confrontational and most importantly, with non-accusatory language, contact the infringer.

To aid with this, the Intellectual Property Office (IPO) has put in place several tools and services regarding the effective protection of IP, including a mediation service and the IP Enterprise Court's small claims track. As ever, prevention is always better than the cure, so early investment in brand protection will save you in the long-run, leaving you to focus on growing and developing your business.
Using platforms to your advantage
Understanding how you can use online marketplaces to your advantage is vital when protecting your brand and products. Many platforms now offer specially created portals where brands can register their own product(s) and IP rights, streamlining the takedown removal process. What's more, several of these platforms exercise 'repeat offender' policies, meaning that sellers reported multiple times for IP infringement, whether by one or several complainants, are blacklisted from trading, along with their IP address, identification and any associated bank details.

On Amazon alone, sellers will see their trading privileges revoked if they continually abuse the platform's policy on intellectual property rights. As such, it is worth emphasising to your legitimate sellers the importance of remaining vigilant online. Establishing a comprehensive white list of authorised sellers is a useful first step, and can alert you to suspect listings and/or sellers. One such issue which can arise when selling on Amazon is known as 'piggybacking'. This is where counterfeit sellers tag onto legitimate ASINs (Amazon Standard Identification Numbers) to sell their products, duping consumers into believing their product is genuine. While this is permissible for legitimate sellers of the same goods, if you discover counterfeit products under a real ASIN, do not hesitate to report the seller to Amazon, either manually or on their Brand Registry.

Elsewhere, key online marketplaces, such as the Alibaba Group in China, have embraced the reality that SMEs don't always have Chinese registered IP and will accept, on their externally facing platforms, foreign IP. For any brand, big or small, this is a game changer, allowing IP rights holders to fight back against the tide of global counterfeits.
Don't Panic – You're Not Alone
Fighting fakes online can often feel like a never-ending problem. However, by staying on top of your IP portfolio and enforcing your rights, IP infringements can be fought. Within the mix of brand protection, online monitoring has a crucial role to play, ensuring that businesses can regularly and consistently defend themselves from the sale and promotion of illegitimate goods. In time, this proactive approach will be rewarded as would-be counterfeiters are deterred, ensuring that your brand's reputation, products and consumers are protected.

You don't have to go it alone. There are many companies out there, such as SnapDragon, that can assist you in monitoring online platforms, and even reporting and removing infringing listings. These companies can take some of the weight off your shoulders, leaving you to focus on running your business! Finally, whenever embarking on your IP journey we always advise that an IP lawyer is consulted. Whilst not essential, they help to ensure that all trademark or patent filings are accurate and watertight, saving you potential further legal expenses in the future.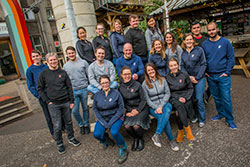 If you are concerned that your IP is being infringed, contact Snapdragon, for an assessment and advise you on how best to proceed.
For more information visit their website snapdragon-ip.com.
---
Related
eBay explains the importance of listing with GS1 GTINs