At the beginning of 2020, just weeks before the Covid-19 pandemic changed the world, Baroness Julia Cumberlege went on a visit she described as "a revelation". At University Hospitals of Derby and Burton NHS Foundation Trust, she witnessed the organisation's Scan4Safety programme first-hand, discovering how every item used on a patient was scanned and recorded before use.
Baroness Cumberlege was then in the process of conducting her two-year review into the use of Primodos, sodium valproate and pelvic mesh.
Primodos, a hormonal pregnancy test withdrawn from the market in 1978, was thought to be associated with birth defects and miscarriages. Epilepsy drug Sodium Valproate could be harmful if taken during pregnancy, potentially causing abnormalities to the baby. Pelvic mesh implants, used to treat prolapse and incontinence in women, could cause agonizing chronic pain described by sufferers as feeling "like razors inside the body."
Due to a lack of data on the use of these products, it was difficult to measure the untold harm caused to many thousands of women and children across the UK, or get an accurate picture of how the health service had responded to learn from past mistakes.
This was why the visit to University Hospitals of Derby and Burton NHS Foundation Trust had such an impact. According to Baroness Cumberlege, seeing Scan4Safety in action and the benefits it brought patients "brought home to me the power of data."
Two years on, how far have we come?
The 8 July 2022, marks two years since the publication of Baroness Cumberlege's final Review – The Independent Medicines and Medical Devices Safety Review (IMMDS Review).
Nine recommendations were made in the report and strides are continually being made to make these a reality.
Here is what we know so far:
The recommendations made in the review have certainly not been overlooked. Measures are now being taken to prevent large scale patient safety incidents from occurring, protecting millions from avoidable clinical errors and unnecessary harm.
However, transparency and traceability are required if these recommendations to drive meaningful change and relies on two key pillars: unique identification and standardised data.
The power of data
During her compelling opening keynote at the 2022 GS1 UK Healthcare Conference in March, Baroness Cumberlege emphaisised the overarching message of the event: the crucial importance of traceability in clinical settings and the way in which point of care barcode scanning can drive patient safety.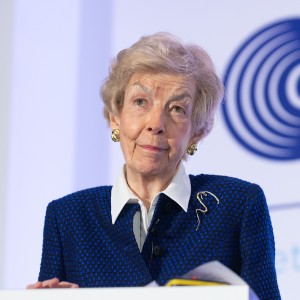 "
I'm determined to ensure we use data, that we harness technology and we improve systems to create safer, better, more informed, and more caring healthcare."
Baroness Julia Cumberlege
chair, The Independent Medicines and Medical Devices Safety Review (IMMDR)
The Scan4Safety program continues to save thousands of lives and millions of pounds in NHS Trusts across England, simply by harnessing the power of universal data standards.
As Baroness Julia Cumberlege said during her opening keynote speech: "Data can do remarkable things." All healthcare stakeholders now need to work collectively to capitalise on its potential to protect and make care safer for all.
Watch the full plenary talk by Baroness Julia Cumberlege