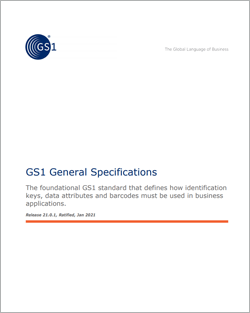 The GS1 General Specifications is the core standards document of the GS1 System describing how GS1 barcodes and identification keys should be used. If you need to know the detailed specifications of GS1 standards then this is the document to read. For example, if you're building applications that use GS1 standards you'll need to know this level of detail.
Version 21.0.1 of the General Specifications have been released to all GS1 members and below is a sample of changes:
GS1 standards for Global Model Number extended for all sectors. Previously the focus has been on healthcare
Digital link Uniform Resource Identifier syntax for consumer mobile devices applications
Price per unit of measurement supported in Application Identifiers. This allows users to encode price per unit of measure for variable units
For a copy of the latest version of GS1 General Specifications, please click here. For a full list of changes, please click here.
But, of course, we recognise most people don't want to wade through the 500+ pages of specifications! So, if you're interested in what GS1 standards can do for you and your business take a look at our Discover GS1 standards area – full of simple guidelines, animations and apps.