Google's recent announcements to include GTINs for entries to their Google Shopping ad network is yielding simpler, richer and more accurate paid search results.
Initially put into practice for product listings from one of 50 specified brands, GTINs are now required for all brand-name products. For the moment, listings without a GTIN will receive a warning flag on the diagnostics tab but this grace period will only continue until 16 May, when disapprovals will begin.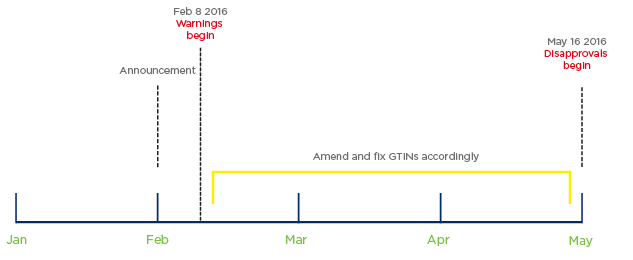 Why is Google adding GTINs to Google Shopping ads?
As with eBay and Amazon, Google are using GTINs to help them uniquely identify exactly what a product is. But why is this important to Google?
Removing the ambiguity of using product titles and descriptions helps Google to match products in the Google Shopping product catalogue and Manufacturer Centre. Using the GTIN as a key, they can link data from different merchants and associate it all to one product.
This helps to remove the differing product data that's been provided incorrectly – giving manufacturers back control of their product data and improving the accuracy of search results.
With more accurate product information that's linked together via the GTIN, Google can improve the user experience across its ad network and the Search Engine Results Pages (SERPs).
How does this effect your ads?
The knowledge graph has been around for a while now and we've seen Google experimenting with product knowledge cards. But, with the ability to more confidently match a Product Listing Ad (PLA) to an entry in Google's product catalogue, product cards seem to be moving beyond a test phase.
To see the effect of the announcements on the SERP and specifically the paid ads on Google Shopping, we've create a comparison of three similar products:
A product from one of the initial 50 brands – Nikon's 1 J5
Search: https://www.google.co.uk/webhp?sourceid=chrome-instant&ion=1&espv=2&ie=UTF-8#q=nikon+1+j5
Nikon was listed as one of the first 50 manufacturers whose products would require a GTIN for ads on Google Shopping. When searching for Nikon's 1 J5 camera we get this SERP.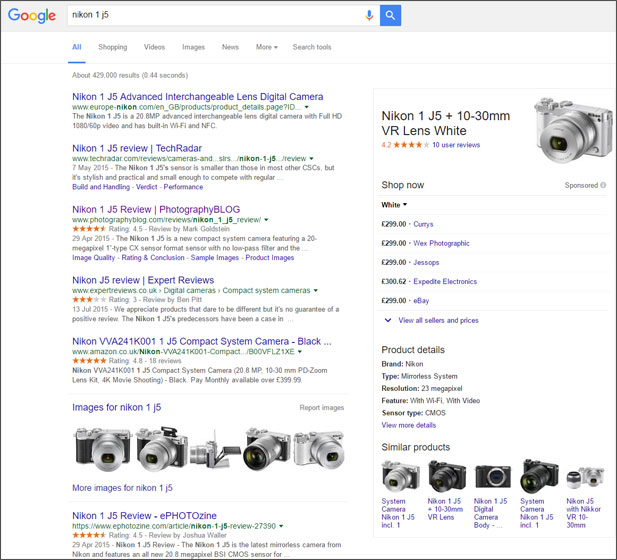 As you can see, for this search there are no shopping or product listing ads at the top of the results. Instead there is a knowledge graph style card taking up most of the right hand side of the SERP. The sponsored entries are now listed under the shop now function, where users can easily see a list of retailers and a price comparison.
If you expand the product knowledge card, you're taken to a product page with more in-depth information:
Condition of the item
Online retailers
Seller reviews
Cost of delivery
Special offers on the item
Base price
Total price (inclusive of delivery and taxes)
Map with stores nearby with a stock indicator
Other products from the same manufacturer – with brief comparison of main features
Other similar products – with brief comparison of main features
Reviews of the product from retailers websites
What does this mean for advertisers?
This level of information obviously extends the real estate on the SERP for paid advertising, which most advertisers I imagine will enjoy. But, it also drives a far clearer level of comparison right from the SERP – so advertisers will have to keep an eye out for competitors with a better offering.
Notably consumers will be able to assess where they shop based on reviews of sellers as well as a straight price comparison, so those retailers with outstanding customer service could potentially justify a premium.
Displaying ads in this way makes them feel more integrated within the SERP. While still clearly identified as sponsored, the clear comparison between different retailers, stock information and stores nearby will enrich the user experience.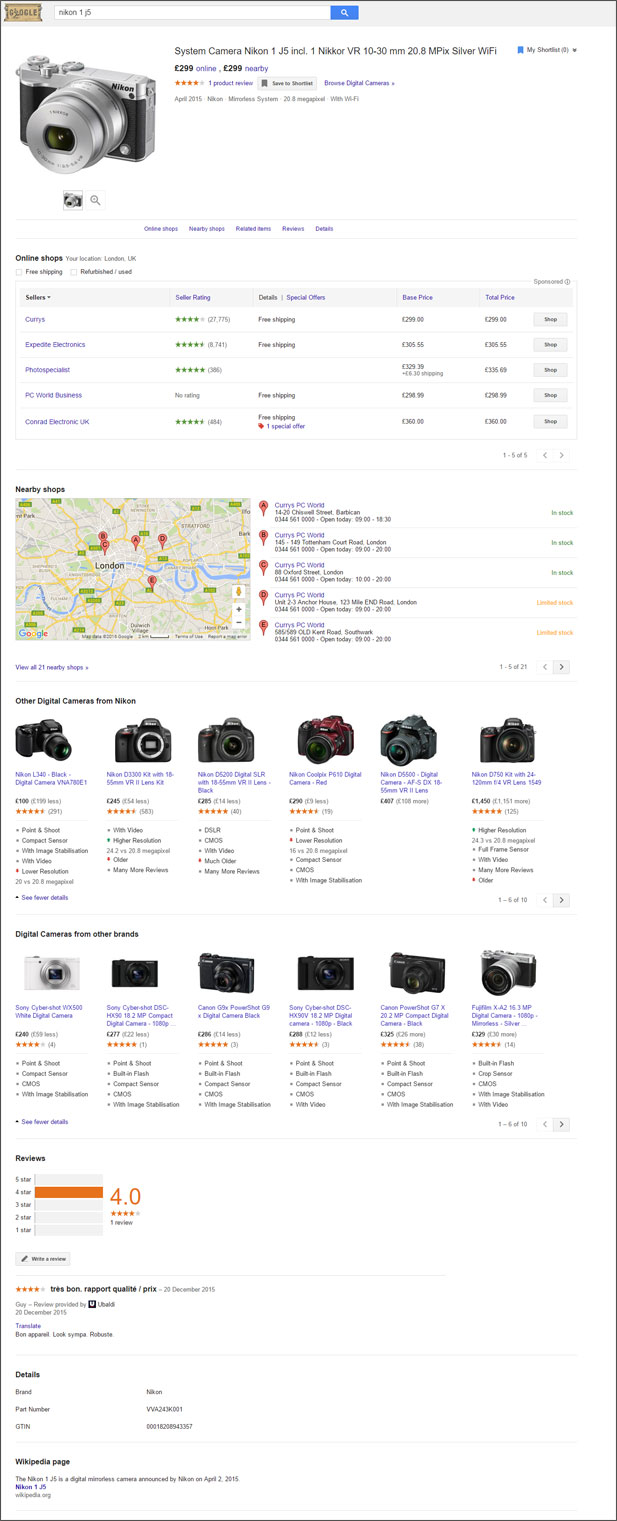 A first mover – Fujifilm X-EZ
Search: https://www.google.co.uk/webhp?sourceid=chrome-instant&ion=1&espv=2&ie=UTF-8#q=Fujifilm+X-E2
With just over a month to go until disapproval's begin, some advertisers not already in the first 50 mandated, already have a product knowledge card displaying for their products.
These first movers are most likely benefiting from similar benefits that the initial 50 brands experienced during Google's trial. After an initial assessment, Google found that merchants with accurate GTINs added to their listings experienced 40% more click throughs, resulting in an impressive 20% increase in conversion rates.

A traditional PLA – Olympus Pen E-P5
Search: https://www.google.co.uk/webhp?sourceid=chrome-instant&ion=1&espv=2&ie=UTF-8#q=olympus+pen+e-p5
Our final comparison is a product not in the initial 50 mandated brands that does not yet have a product knowledge card. The shopping ads for this product look more familiar.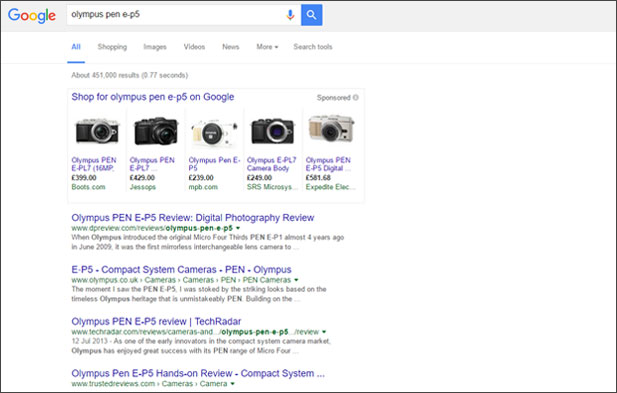 This result has the smaller image driven ads at the top of the search results, stating the advertiser, the name of the product and the price. There is none of the additional information about the product or any reviews.
Upon closer inspection you'll also note that not all of the products displayed are in fact the product searched for. Three out of the five products displayed in the above search results are for a different model of camera – but they are all the correct brand.
It's also worth noting for the moment these new style of PLAs appear to be focused on electronics. These products were all searched for as a specific brand and model. Apparel, general merchandise and consumer packaged goods do not currently seem to have the same ad format as discussed above.
Are your ads displaying as a product knowledge card?
If so we'd like to hear from you! We'd love to understand more about any issues you had with inserting the GTIN into your listings, if you need any help or advice on when a new GTIN is required or would like to find out how GTINs or GS1 standards can further benefit your business.
We're always keen to know the impact our standards are having on our member's businesses, so please get in touch and let us know how the new ad formats are working for you.
Finally, a look to the future…
From the screen shots I've discussed, next to each of the retailer's offerings there's a button termed 'Shop'. Google announced last year that it would begin to test a 'Buy' button on its mobile ads – allowing users to buy with just one click using the payment details registered to their Google account.
With the card issuers and banks in the UK now announcing they'll be among the first to offer their customers access to Android Pay, the emergence of a 'Buy' button in mobile listings is something UK retailers will want to keep a keen eye out for.
An example for how this might appear is below.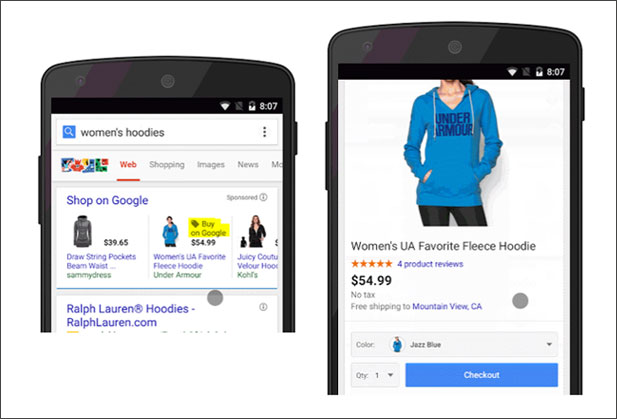 ---
*Screen grabs and research was conducted in early April 2016