What did we learn at Retail Without Borders 2020?
A few weeks ago, our marketplaces team attended Europe's leading online marketplace conference, Retail Without Borders. Here is a quick summary of what we learnt.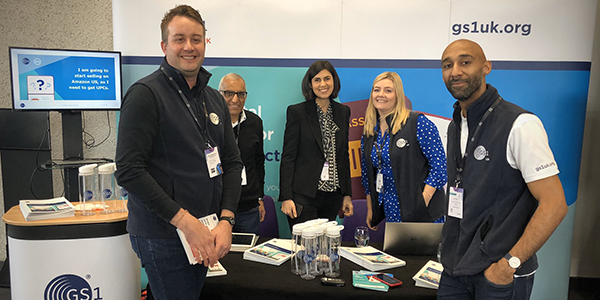 Retail Without Borders has grown significantly since its humble beginnings back in May 2015, where fewer than 100 people gathered into St. Ermin's hotel for an afternoon, to learn why marketplaces are so important to the growth of global e-commerce (back then it was called Fashion Without Borders).
Fast forward five years, and Retail Without Borders has grown to become one of the largest marketplace conferences in the world – now running across two days, handing out 15 marketplace awards, introducing more than 20 marketplaces, hosting more than 60 speakers and welcoming some 2,000 delegates!
This has fast become one of our favourite events in the marketplace calendar, because we love seeing the range of marketplaces that attend and exploring the options for new channels or territories. We believe that if you are interested in selling via online marketplaces, or you want to dip your toes in to cross-border trade, this is the event for you!
But what did we learn during the two-day conference?
Always do your research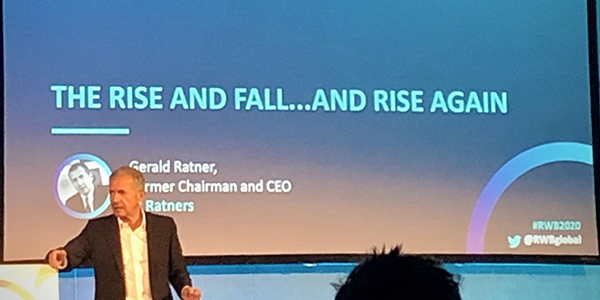 The highly entertaining opening keynote from Gerald Ratner, explored how the made many, many mistakes he has made in business have all been overshadowed by the monumental mistake he made in 1991, when he called his products "total crap" in front of the Institute of Directors at the Royal Albert Hall.
However, it wasn't this mistake that was most relevant to the audience. Instead, Ratner spoke about his Dutch expansion. He explained that in the UK, high-street jewellery businesses lose money for the first 11 months of the year, and the entire year's profit is made at Christmas. So, imagine his horror when Christmas came around and the Dutch sales remained consistent with the other 11 months of the year.
It turns out Dutch people don't give each other gifts at Christmas, so the whole plan behind his expansion was a bust!
It may seem obvious, but make sure you do your research properly before trying to broaden into other markets. Meet with marketplace representatives, ask questions about your products' chances of success and learn about local culture and customs, before jumping into a new market.
For example, in Saudi Arabia you need to think carefully about how you set up your delivery options. Your buyers won't provide you with a typical postal address, instead they might enter the "blue house on the corner".
And if that isn't enough of a headache for western sellers, you will need to negotiate that most e-commerce payments are based on cash-on-deliver (COD) and that Saudi women, who will be the majority of your customers in this region, won't open the door to a man.
Retail has become a technology business… whether you like it or not
We have long heard about the importance of having a strategy for both online and offline sales channels, but retail is no longer able to separate the importance of technology when building a successful business.
During the "future of e-commerce" panel, we heard that businesses need to be more agile and adapt more quickly to changing consumer demands. This is led by the integration of technology at the core of retail businesses, but also an increase in specialist partners to plug the gaps that core staff are unable to deliver.
In one company, as much as 80 per cent of the staff have become partners, because business has become too unpredictable to do everything in isolation.
The panellist also highlighted that physical stores need to be experience led, not profit led, while their online counterparts can focus on increasing sales.
We are seeing HEMA stores in China that are now a blend of retail destination, distribution centre and dining experience. With physical space at a premium and customer footfall decreasing, retail stores simply need to work harder.
That said, the panel remarked that more than 50 per cent of Generation Z want to buy their products from a physical store – a stark difference to their millennial counterparts, who were the first generation to fully embrace online shopping.
Try the "smash and grab" approach when running ads on Amazon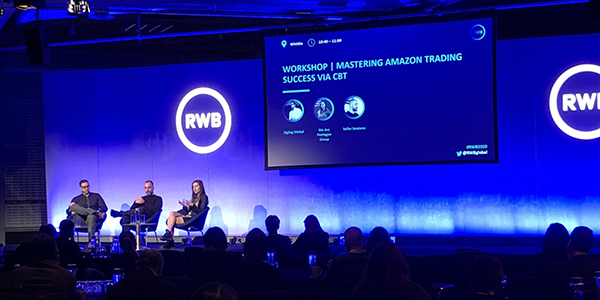 During the workshop on "mastering Amazon trading", Seller Sessions founder, Danny McMillan, shared his insights on the "smash and grab" approach to test which search terms will yield the best results for your products.
This approach consists of running high-bid, high-budget (as high as you can go) ad campaigns for 24 hours, with all the relevant search terms for your products. After 24 hours, turn off the campaign and wait a further 72 hours for the ad-data to aggregate. When your report is ready, you will be able to see exactly which search terms work best for your items.
Then benefit of the "smash and grab" approach is that you will find out much more quickly which search terms you should be bidding on and, because you've run a high budget campaign, your ads will have received more exposure and more accurate results.
Be aware that national events, may not be international events
We all know that running promotions around key events, such as Christmas, Valentine's Day or back to school, is a great way of increasing your exposure and traffic. But it is important to remember that, if you are selling internationally, not all UK celebrations and events will be reflected in other markets.
During the "sun never sets on peak trading" panel, the panellist highlighted that in the US, "Friendsgiving" is gaining significant traction, with brands such as Bailey's using the term as part of advertising campaigns. Friendsgiving is where friends gather around the Thanksgiving period to celebrate as group before heading off to their respective families.
There is also Galentine's Day which is a great excuse for female friends to celebrate each other ahead of Valentine's Day, and the increasingly popular Singles' Day sees more sales in one day than the whole Black Friday weekend.
There are also events such as Mother's Day that are celebrated around the world, but on markedly different dates.
Logistics is going green
As scrutiny on our environmental impact grows, e-commerce is coming under the spotlight around delivery and returns. Returns are an inevitable element of e-commerce, with many companies having to build in returns costs into their business model, particularly when companies are offering free returns.
But it is not just the financial impact that needs to be considered. During a keynote on how to optimise the post-purchase experience, ZigZag founder, Al Gerrie, spoke about how returns are going paperless – a trend that has already been implemented by the likes of ASOS as part of their commitment to reducing their carbon footprint.
And it is not just paper return slips that are changing, Valpak called out that recyclable packaging is becoming a must have, rather than a nice to have.
Consumers are becoming more acutely aware of their environmental impact, so it is important that the companies they buy from are providing more ethical and sustainable choices.
Three questions from eBay that you should consider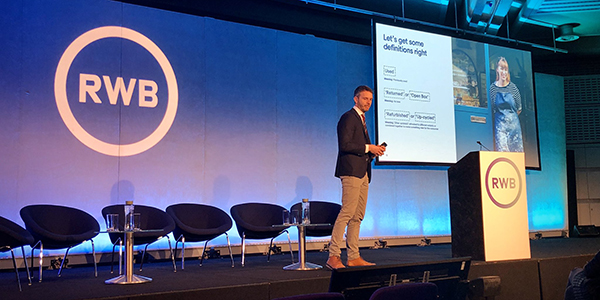 Finally, during eBay's 2020 vision keynote, Murray Lambell, VP of trading at eBay UK, raised three questions you need to consider as we move into the next decade.
Is your customer going elsewhere to have their "sustainable" shopping needs met?
Is your retail business doing enough to disrupt the "full" supply chain and realise the unexploited opportunity of re-commerce?
Who can you help to resolve your re-commerce challenge?
Global e-commerce is constantly evolving, which is why events such as Retail Without Borders are great places to pick up the latest trends, ideas and meet with e-commerce leaders. If you want to find out more about Retail Without Borders or to attend the next conference, visit rwb.global