Amazon sellers: first-party relationship versus third-party relationship
At Amafest 2019, the benefits of a first-party relationship versus and a third-party relationship with Amazon was a hot topic. But what are the differences?
First-party versus third-party
A first-party relationship (1P) means you sell your products directly to Amazon, who then acts as the retailer on your behalf, through Vendor Central.
A third-party relationship (3P) is when you act as the retailer and sell your products directly to buyers on the Amazon marketplace platform through Seller Central.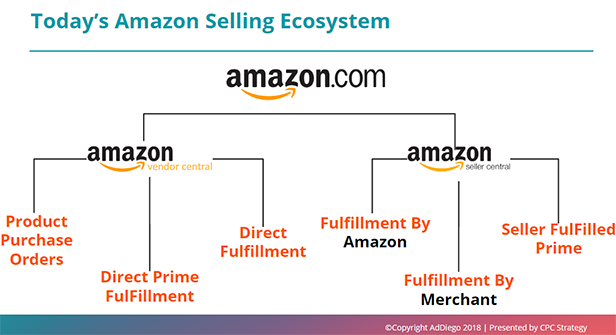 The benefits of 1P
As a 1P seller, you only have to worry about supplying your products in bulk to Amazon

All other customer-facing aspects are handled directly by the Amazon team

Amazon is more likely to promote your listings and give you access to key marketing initiatives for big launches
Your products are listed as an Amazon products which can encourage greater trust and potentially more purchases
You have direct contact with a vendor manager who will help you invest your money to encourage greater growth
You gain access to senior category managers and fulfilment by prime
The drawbacks of 1P
One of the biggest drawbacks of 1P is the lack of control over contract terms and your pricing, which can result in lower margins

You need to make sure you define your margins and pricing right at the beginning, as it is more important to maintain your margins over growing sales volume

You have less control over payments being processed in a timely manner

For example, 3P sellers on Amazon usually get paid between 7 and 14 days, whereas 1P sellers may have subscribe to 90-day terms

Agreed terms can't be reversed and terms are visible to every Amazon vendor manager across the EU

This can make it difficult to set different pricing or terms in each market

While you are given access to Amazon Marketing Services (AMS) and encouraged to use the tools available, this service can be expensive
You pay for the shipping, handling, loss of and damage to your products despite this service being delivered by Amazon
The benefits of 3P
Since you are selling directly to the buyer, you have full control over setting your own prices and maintaining margins

This means you can monitor and update pricing as necessary to compete with competitors or run promotion

Greater inventory control

If you are a 1P seller, Amazon can only hold a limited amount of inventory which may result in your products being out of stock – with 3P selling you have greater visibility of your inventory and can adjust as necessary

Broader variety of delivery options at fixed costs and optimised shipments to fulfilment centres

Fulfilled by Amazon (FBA), Fulfilled by Merchant (FBM) or Seller Fulfilled Prime

Sell across Europe from one account
Amazon compensates you for any damages
The drawbacks of 3P
You have to set up your own listings and ensure they are full optimised
All marketing and promotion to be managed directly by you as the seller and lack of access to all marketing tools
Need to manage all inventory management and fulfilment options
Shifting to a hybrid model
To get the best of both worlds, some companies are shifting to a hybrid model. This is where you sell both to Amazon and a first-party vendor (1P) and sell on Amazon as a third-party seller (3P).
The hybrid model allows you to take advantage of the lower fees and more sophisticated marketing tools from Vendor Central, while maintaining greater control, analytics and margins through Seller Central.
One of the major benefits of adopting the hybrid model is that it allows greater stock control. Amazon is conscious of not overstocking products, since their warehouse space is one of their most sacred assets. As a result, you are unlikely to be able to hold 100% of your inventory through 1P selling. This is where 3P fulfilment options come in – you can top up your 1P inventory to ensure you're in stock at all times.
If you do choose to adopt the hybrid model, it is important to remember that you will be managing you catalogue across two separate systems. This means you will need a solid understanding of both Vendor Central and Seller Central and keep on top of admin across both platforms – from invoices, ordering products, warehousing, labour costs and taxes. So, the hybrid approach to selling on Amazon offers greater control for your business but requires careful planning and operational management to make sure both platform's work well together.
You can find out more about the Amazon hybrid model here.