GS1 UK helps Barcode Festival smash all records
GS1 UK joined with grocery brands and retailers to raise the roof at an industry-wide summer party, recognising incredible colleagues and raising funds for GroceryAid
On 4 July, Barcode Festival surpassed last year's event with 2,200 grocery colleagues enjoying more than 10,000 cocktails, 12,000 portions of street food and three headline acts in Jessie J, Basement Jaxx and Nick Grimshaw on the Skittles Stage.

At the end of the event, a fantastic total of £450,000 had been raised for the industry's charity, GroceryAid, which supports people in their hour of need.

Held at London's Hawker House for a second successive year, the festival was full of exciting brand activations from its 48 sponsor companies. Among other things, these showcased the industry's very best food and drink.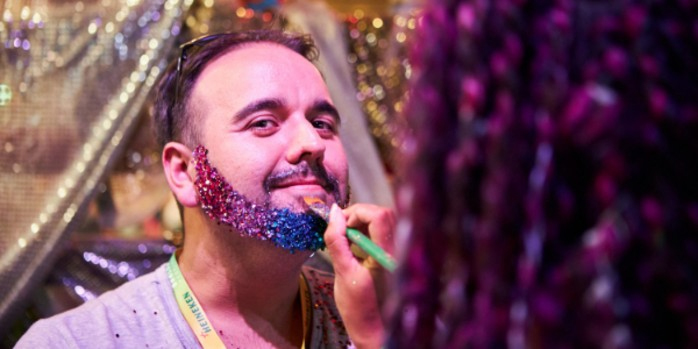 The glitter artists proved incredibly popular, with festival goers queuing well into the evening
GS1 UK took over the very popular Glitter Bar, which saw non-stop traffic from the moment the festival opened until late into the night. The team also created a fun product-scanning competition, introducing festival goers to the fundamentals of what GS1 standards are all about.
It is fair to say that the competitive spirit took hold, with leading grocers determined to beat each other's times by repeatedly coming back to the stand to see who could scan the 15 items the fastest.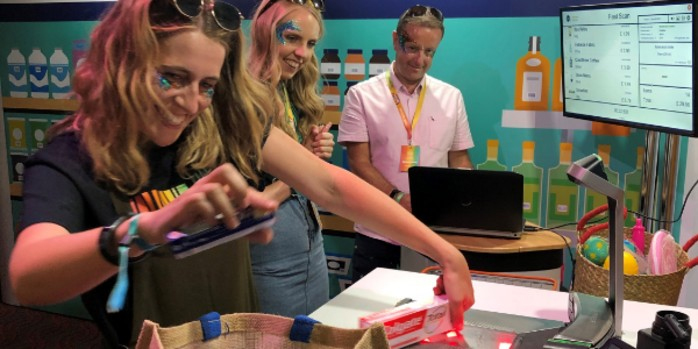 GS1 UK and Datalogic's scanning game evoked the competitive side of the leading grocers involved
The eventual winner, Jodie Charman from Spar, completed the game in a super-fast 13.999 seconds, and was awarded a beach bag full of summer holiday goodies to fit in with the "Barcode Beach" event theme.

When looking back on the event, Jim Dickson, head of retail at GS1 UK, said: "What a day! We met some great people with more than 500 visiting our fantastic glitter artists and hundreds of people throwing themselves into our scanning challenge.

"The opportunity for GS1 UK to join GroceryAid in supporting a great charitable cause, while raising awareness of who and what GS1 UK contributes to the grocery community was too good an opportunity to miss. We're even in the process of signing up one of our retail team to become a GroceryAid volunteer."

Steve Barnes, GroceryAid's chief executive, reflected on the event: "With fantastic support from companies like GS1 UK, Barcode Festival 2019 has built strongly on last year, bringing together thousands of people from across our industry to enjoy a great day.

"It is a festival with a purpose – to raise funds for grocery colleagues who need support – and it has quickly become a must-attend event in the industry calendar."

The charity now has big plans for the 2020 event, moving to a larger venue in London with the aim of raising £700,000.

To find out more and register your interest for Barcode Festival 2020, visit www.barcodefestival.co.uk