Customer loyalty consists in keeping it simple
The trick to retaining shoppers in the information age might be as easy as just listening to what they want
The grocery industry is the most intensely competitive sector in UK retail, with the major players vying for a share of a market that will be worth an estimated £218.5bn by 2023.

But traditional buying habits have been disrupted – spend on online shopping, for instance, is set to rise by more than 50 per cent in the next four years, and commentators have been sounding the death knell for the weekly shop for half a decade.

Our affiliation to brands and with retailers is waning, as the consumer offering becomes more diverse and shoppers more demanding.

Retailers realise that they can no longer rest assured that a "faithful customer" still exists and will have to work harder in an environment where loyalty is an increasingly fluid concept.

In dunnhumby's recent exploration of consumer habits, Grocery CX: driving loyalty in a disloyal market, the customer data science firm teamed up with Retail Week to conduct a wide-ranging survey of 2,000 British consumers and uncover the highest and lowest priorities for shoppers in both bricks-and-mortar and online stores.

The results make for interesting reading….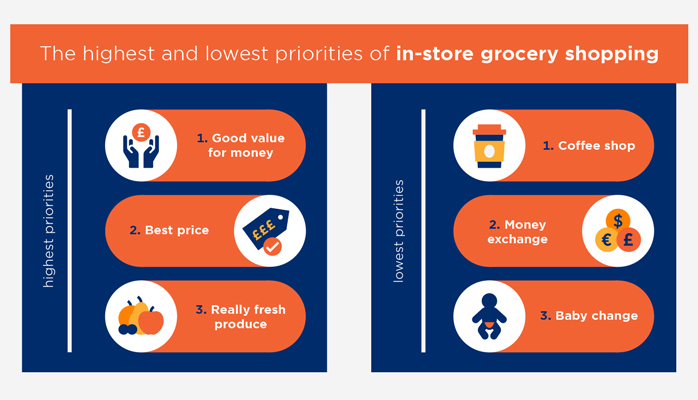 The bricks-and-mortar shopping experience is still governed by the holy trinity of quality, price and value for money, with the latter being the most important for almost two-thirds of respondents.

At a time when disposable income is at a low ebb and the continuity of the supply chain is being put at risk by the uncertainty of a no-deal Brexit, these three factors may come into sharper relief in the coming months.

The three lowest priorities for in-store shoppers can be seen as either value-adds or superfluous to the overall bricks-and-mortar experience, useful adjuncts to time spent in a supermarket but far from the core reasons behind a weekly trip.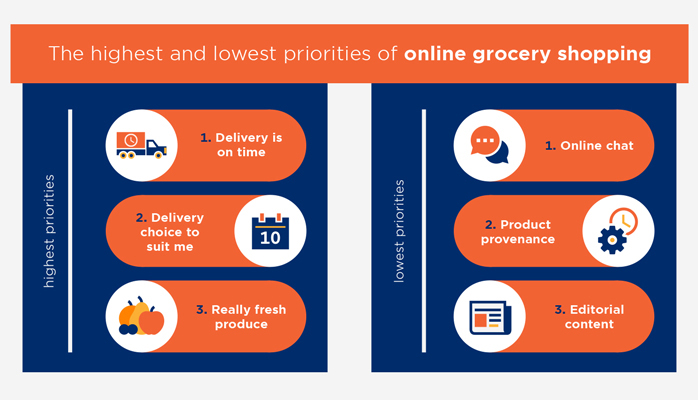 When it comes to online shopping, two of the top three priorities involved delivery, and clearly pointed to customer convenience, with prompt conveyance of goods and the availability of suitable delivery slots as primary concerns for shoppers.

As in the top priorities for in-store approval, fresh produce also featured in the top three must-haves for an online experience, showing that however tailored the buying process might be, shoppers will not be satisfied with a drop in the quality of the items they are buying.

Two of the lowest priorities for web-based customers revolved around content on retailer portals.

While the user interface, display and descriptions of individual products may be a crucial part of the online purchasing process, curation of content and the ability to troubleshoot with a customer services manager or AI chatbot are peripheral elements in the eyes of the shopper.

Surprisingly, the provenance of products featured among the lowest priorities for online consumers, in contravention to the recent studies that found that almost half of Britons are looking for assurances about where their food originates. As long as it arrives on time and is fresh, online shoppers do not seem to mind where their food comes from.

The message from dunnhumby's research is clear: retailers need to concentrate on ensuring their fundamental offerings are well executed, in addition to providing a much more personalised customer experience for the growing number of Britons that do their grocery shopping online.

The consumer has spoken, will retailers heed their words?