Tesco leads the way on image display for mobile shopping
The UK's biggest supermarket is endorsing the use of mobile-ready hero images for all of its product listings
Britain's leading grocery retailer by market share is changing the way it displays products to optimise for mobile phone usage.

Tesco's 2019 Product Data Guidelines now include sections on how to best structure images so consumers can make quick and accurate choices on smaller screens.
Tesco helped to develop an industry-wide specification for hero images – a product's primary display picture – in a group moderated by GS1 and including other major retailers and brands, such as Asda, Unilever, Walmart, Coca Cola and L'Oréal.

The move by the chain that controls 23 per cent of the UK's retail grocery market, shows just how serious the retail industry is treating the change in our buying habits.

In 2017, 7 per cent of all groceries in the UK were bought using the internet, and in 2018, two out of every five of the total purchases made in the UK involved a mobile device. By 2022, mobile transactions are set to increase to 49 per cent of total e-commerce sales across the nation.

Seeing £48.8bn of purchases in 2018, the UK is currently the world's third largest "m-commerce" market, behind China and the United States, and outstripping the Far East's high-tech powerhouses, Japan and South Korea.

The trend towards small-screen buying is showing no signs of abating, and with retailers both demanding and adhering to different criteria from their partners when creating online product imagery, a standardised way of displaying products is an increasingly important part of the customer experience.
Consistency and clarity
According to the Tesco guide, the aim of an optimised hero image is to "create a simpler, cleaner image to help shoppers quickly recognise a product…without having to click through onto the product details page."
Comscore's 2017 white paper, Mobile's Hierarchy of Needs, analysed the most common reasons why m-commerce shoppers do not convert. In one in five cases, these consumers cited "unclear product details" as the reason behind their failure or unwillingness to complete transactions.
Quite simply, clearer pictures mean quicker and better selections and a greater likelihood of purchasing. The mobile-ready hero image guideline promoted by Tesco follows an easy and agreed-upon methodology, governed by the "Four Ws".
A formula for success
In essence, every mobile-ready hero image should clearly and unambiguously be able to display in a single 10mm picture, the Four Ws:
Who is the brand?
What is it? (The type of product.)
Which variant of the product is it?
HoW much of it is there?
These primary product images differ from the classic pack shot in a number of ways, displaying richer information in an optimised format, such as the below: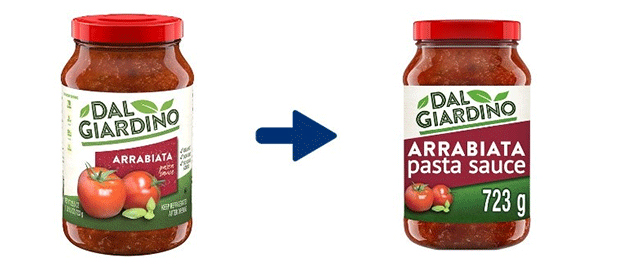 Paul Reid, head of standards and consulting at GS1 UK, and one of the leading figures in the crafting of the guideline, said of the Tesco move: "While the changes are subtle, using the Four Ws to construct mobile-friendly images represents a revolutionary act in an industry where more and more shopping is being done on smartphones.
"The industry was crying out for standardisation in the way images are displayed, and with the Four Ws format, there is an easy formula to get it right every time.
"Tesco's endorsement of the mobile-hero image guideline is simply future-proofing their offering in a world where it's estimated that 95 per cent of purchases will be facilitated by e-commerce in the coming decades."
Click here to view the full guidelines.