The glass is half full for British beverages
If you've read a newspaper recently, you could be forgiven for thinking that it's last orders for the drinks industry.
Pubs are certainly suffering. Each day, four pubs close – hammered by business rates, rising rents and expensive alcohol taxes. While the Chancellor offered a £1,000 discount on business rates for the majority of pubs in his Spring Budget, this only prevents a future problem rather than tackling the challenges they face now. Unfortunately, Hammond's decision to hike alcohol rates means taxes on beer have risen 43% over the last decade – adding over £100m to the cost bases of pubs.
We now have the lowest-ever recorded number of pubs in England and Wales, at 43,231. Restaurants are also suffering, with a 23% increase in business rates across the country. It's not just increased costs either – we simply aren't going out as often as we used to. A survey from Waitrose found that 39% of us see eating out as less of a treat than we used to. Staying at home is cheaper, easier and more casual. And with trends like Dry January, drinking less has never been so fashionable.
New entrants to the industry
With distribution channels under threat, who would choose to enter the embattled drinks sector? Well, it turns out that quite a lot of people would. In the last few years, there's been a boom in the craft beverage sector. While traditional pubs might be slowly dying out, British brewers have never had it so good. Growing from just 140 breweries in 1970, there's now in excess of 1,700. In contrast to pubs closing, more than 200 breweries opened in 2016. Britain now has more breweries per capita than any other country in the world. And it's not just beer either. The number of gin distilleries has doubled in six years and sales of the spirit recently surpassed £1 billion for the first time. We've never had so much choice of drink and producers are thriving.
GS1 UK is a community of more than 31,000 UK businesses and our standards are the most widely used in the world – by over two million companies in 150 countries. So it's not surprising that our membership data reflects current business and consumer trends. This allows us to see what's happening in the retail market.
While drinks businesses are a small percentage of our membership, we saw new companies join at a much faster rate in 2016, swelling their ranks by 41% over the twelve months. We also saw an increase in more modest-sized new joiners across all industries. Before 2015, 58% of our membership had a turnover £500,000 or less, but in 2016 this rose to 78% of new members, demonstrating a strong upswing in small business start-ups.
Time to toast drinks manufacturers
Given the choice, the British public prefers to support local businesses over faceless multinationals. With food and drink, products with fewer air miles are particularly appealing. We might not care about the provenance of our washing machine tablets, but when it comes to drinks, authentic heritage products have the edge. The evidence supports this, with three-fifths of shoppers saying place of origin is at least as important to them as other factors, such as price and quality. 55% specifically say they prefer buying UK brands to support British businesses, citing reasons such as increased trustworthiness and being more attuned to their needs and tastes.
With the increased prominence of social media, niche drinks have benefitted even further. It's given small firms a leg-up with marketing, with niche products far more shareable. With one in five adults – 9 million people – sharing a photo of food or drink on social media every month, this is a huge opportunity for small brewers to make a big impact.
New ways to buy booze
With pubs, restaurant and shops closing, drink producers are going directly to consumers. Supported by social media and online marketplaces, drinks manufacturers are cutting out the middleman, selling their products on the web. Our research found 71% of our members sell their products through their own websites, while 67% sell via online platforms like Amazon and eBay. This goes some way to explain why pubs and off-licences are shutting down, at the same time as breweries and distilleries are springing up.
As more people buy drinks online, we're also witnessing the rise of digital merchants – online entrepreneurs sourcing the best products from around the country to sell on their websites. In the drinks sector, sites like Beer Hawk and The Whisky Exchange have been particularly successful.
However, the importance of the supermarket cannot be played down. Most consumers still buy their drinks from these major retailers. Their lower prices and convenience are partly to blame for customers leaving pubs.
And of the major supermarkets, Tesco, as the largest retailer, gave the most opportunities to our new joiners over the past five years (33%). But it's Britain's seventh largest supermarket Waitrose which sits in second place – defying its market share – by providing opportunities to 18% of our new joiners. Indeed many of the 2,500 local and regional products Waitrose stocks regularly outsell their big-brand equivalents. Of course, this shift isn't without motive and is driven primarily by demand.
Implications for the UK drinks industry
While the closure of pubs is a huge social loss to our country, it's reassuring to know craft drinks manufacturers are thriving. Hopefully, the Government's business rates discount for pubs will lighten the load on pubs and allow them to thrive again. Pubs bring charm and character to our neighbourhoods, helping to bring communities together. Their absence doesn't bear thinking about.
But as we've seen here, all is not lost for British drinks. With smaller independent brewers like BrewDog doing so well, they're opening new pubs and expanding. We're willing to pay more for high-quality, local drinks with heritage. There is clearly a thirst for British drinks. And it's not just here in the UK. British drinks are being exported around the world to new markets in ever greater numbers. Take gin for example. Exports surged to record levels last year, reaching nearly £500m. It's great news for British business. Which is why our next report will be looking at the current environment for Britain's exporters – particularly in light of Brexit and the Trump presidency.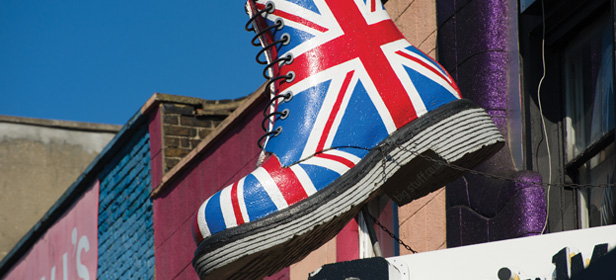 Read how the British public are buying locally again – whether it's food, drink or clothes