Alkemics to power productDNA:hub – an industry-led service to help retailers and suppliers share product data and images
London, 22 January 2018 - A group of leading UK grocery retailers and suppliers facilitated by GS1 UK, the product data standards organisation, has selected Alkemics to power productDNA:hub, the new service that helps retailers and suppliers to share and manage product data and images.
Alkemics is a French software platform that facilitates product data sharing between brands and retailers, allowing them to collect and enrich their product data.
After a selection phase that included the testing of 25 international solution providers, Alkemics was chosen by the group of leading UK retailers and suppliers to power the collection, standardisation, and sharing of product data among manufacturers, brands, and retailers in the UK. Starting in the spring of 2018, several leading British retailers and brands will use the Alkemics platform to speed up the standardisation and sharing of product data in the grocery retail industry.
GS1 UK put out a call for bids in early 2017 on behalf of the industry group and two finalists were chosen after several phases of testing. The finalists, including Alkemics – whose platform is already used by 90% of the grocery e-retail market in France – then conducted a proof of concept test with three retailers – Tesco, Sainsbury's, and Ocado – and four suppliers – Unilever, P&G, Nestlé, and Itsu.
John Martin, Head of productDNA at GS1 UK: "We completed a thorough, structured evaluation of leading product data management solutions against the needs of our community including pilots for a number of shortlisted vendors. We were fortunate to have massive support from retailers and manufacturers in this process, and the decision to select Alkemics was widely supported. The group, facilitated by GS1 UK, selected Alkemics to power productDNA:hub because of their deep understanding of the industry's needs and their innovative, intuitive and flexible technology. They put us in an excellent position to deliver a single industry-wide solution to accelerate the grocery industry's digital transformation. Their solution, which is designed and built for the cloud, manages commercial, supply chain, eCommerce and image data together. It was a perfect fit for productDNA:hub."
High-quality, digitised and standardised product data is increasingly important to both suppliers and retailers. Logistical and regulatory data, marketing content, and visuals can now be used in a variety of different contexts – from retail information systems and databases, to logistics management and e-commerce sites. The growing need for transparency among consumers and the increasing number of distribution channels have also helped make product data a key concern for the retail industry.
To tackle the problem, twelve manufacturers and retailers, representing 80% of the UK grocery retail sector, worked with GS1 UK to find a single industry solution for product data management. 
Gary Lynch, CEO of GS1 UK said: "Product data management and the sharing of information between suppliers and retailers has always been a challenge for the retail industry – our research suggests the industry could save £200m by improving data quality and facilitate data sharing. productDNA:hub is the solution to that problem."
The Alkemics platform will offer a dashboard, data quality monitoring tools, and brand-retailer activity tracking. All data collected is also structured and standardised.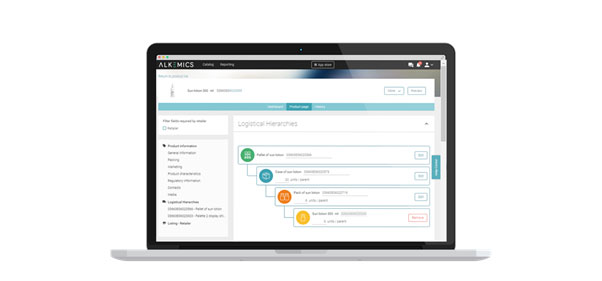 The Alkemics platform that will power productDNA:hub
The single omni-channel platform addresses both the needs of offline and e-commerce business and its flexible data models, which can be modified "on the fly", allowing the technology to adapt to growing needs of the retail industry in line with the evolution of GS1 UK standards.
"Nowadays, professionals from all departments, from IT to marketing to sales, have to access and use product data. Each of them needs to be able to easily add, view, and share data in a single secure location" explained Antoine Durieux, founder and CEO of Alkemics.
"We've developed a user-friendly, intuitive platform to meet the needs of a variety of different professionals, as effectively as possible. While more than 5500 brands have started using our platform over the past two years in France, this collaboration with GS1 UK is an important milestone in our development, as it not only shows our technology's adaptability and scalability, but also our competitiveness alongside global industry leaders. Our software has proven to be a versatile and future-focused solution that will accompany the retail industry through its digital transformation. We are very pleased to have been selected by the industry group and GS1 UK as the technology provider to productDNA:hub."
- ENDS -
About GS1 UK
For further information or requests for interviews, please contact Tim Haidar: 020 7092 3584 / Tim.Haidar@gs1uk.org.
GS1 UK is a community of over 33,000 members working in retail, foodservice, healthcare and more. GS1 UK is one of 112 independent, not-for-profit GS1 organisations operating across 150 countries worldwide. GS1 UK helps everyone involved in making, moving and trading goods, automate and standardise their supply chain processes using the common language of GS1 global standards.
About Alkemics
Alkemics is the digital collaboration platform for retail. The cloud-based Saas solution helps retailers and brands digitize, collect and share product data in one single secured place. Alkemics facilitates collaboration and drive operational excellence with automated collection, correction and sharing of high quality product data (GS1 standard). After raising 20 million euros in a Series B funding round in September 2016, Alkemics has seen great success within the retail market in France over the past two years, with more than 5,500 brands and 90% of the grocery e-retailers joining the platform. Alkemics has launched several new retail industries in 2017 (beauty and cosmetics, health, Out of Home…).
For more information, please contact:
Henry Conner / James Staunton, Instinctif Partners 
+44 (0)20 7457 2024 / +44 (0)20 7427 1404 
henry.conner@instinctif.com / james.staunton@instinctif.com
Holly Porter, GS1 UK
+44 (0)20 7092 3595
holly.porter@gs1uk.org