Report Unveils Best Strategies for Selling via Online Marketplaces
Six personas of businesses using online platforms to trade are revealed – along with strategies for each
Online test launched to help businesses identify their persona and offer tailored solutions to their specific challenges
Small businesses and sole traders selling via online marketplaces now contributing £17bn to the UK's economy
London, 7 November 2017 – GS1 UK has analysed the characteristics of businesses selling via online marketplaces, with a view to helping them get the most out of the channel.
The supply chain standards organisation released its report The Rise of the Digital Entrepreneur: Harnessing the Power of Online Marketplaces today.
The report aims to help businesses of all sizes understand how to get the most out of online marketplaces, a channel which is used by 391,000 online marketplace sellers in the UK alone –280,000 on Amazon, 200,000 sellers on eBay, with 98,000 of them using both – as well as another 9,000 sellers who only operate on Google Shopping.
Gary Lynch, CEO of GS1 UK, said that there is an abundance of anecdotes of 'sofa CEOs' selling cheap goods on online marketplaces and making a fortune but the full story of how these digital entrepreneurs are using external platforms is much more complex.
"The opportunity to increase sales and profits on the likes of Amazon, eBay and Google Shopping, is readily available but is a continual challenge for online sellers," said Gary Lynch.
"On the one hand, there are hundreds of online marketplaces offering enormous potential to increase exposure and access new markets. However, each online marketplace is different and each comes with its own unique capabilities.
"Businesses will therefore need to tailor their strategy accordingly to make the most out of each online marketplace and at the same time put in a significant amount of time and hard work to be truly successful."
GS1 UK has identified six 'personas' or categories that most businesses selling products via online marketplaces fall into.
"Creatives" are usually new to marketplaces/online selling and have turned a hobby or passion into a business. They operate a manual sale-by-sale strategy and tend to focus on a single marketplace. Their products are typically second-hand or handmade and they operate out of their own home. The business may be a side project or second source of income for them. Creatives need to seek out how-to advice on using marketplaces and listing items. They need to look for guidance on marketplace regulations and barcoding. By focusing on producing targeted content and formatting they can drive more traffic to listings
"Traders" have spotted an opportunity to make money quickly and easily. They source lower cost products from abroad at high volume and sell them through multiple online marketplaces, rather than their own website and online marketplaces are their primary channel. They have an eye for the latest product trends and crazes, which they buy in bulk and sell fast. Brand identity is not a priority for them but they actively monitor product success on different marketplaces. Many Traders need to work on their back-end process optimisation. They can grow their business by increasing efficiency, typically by trialling automatic listing software for marketplace platforms. High volume sales strategies could lead to investment in digitised stock management solutions. And as their product range expands they should seek out further advice on how marketplaces differ in terms of pros cons, fees, and requirements
"Innovators" are focused on building a brand. They started out online and are looking to increase awareness. Typically, they target niche markets and adopt a 'start-up' culture. Innovators trade through their own website to develop their brand. They focus on a niche idea or a smaller range of products, often invented by them. Innovators employ a small team with the same mind-set and are committed to delivering their vision and taking the business forward. To be successful, the best Innovators will concentrate on channel integration and their marketing and sales. They need to focus on how best to build their brand and developing their seller profile. They should also prioritise linking marketplace profiles to their own website and integrating sales and product stock updates
"Growers" are often family run businesses, typically started offline. They recognise the need for change in order to reinvigorate their business and are focused on growing their sales through online marketplaces. They use online marketplaces to reach new customers and test the e-commerce waters. Their brand is important to them and they will develop their own website. Growers should seek out advice on how to most effectively use marketplaces alongside physical channels and integrating offline stock management with new online sales. Growers might also look to invest more time and effort on improving data collection to review and compare online and offline sales
"Pioneers" are experienced users of online marketplaces and are comfortable with their current level of online sales. They use marketplaces selectively based upon product type and are likely to have been early adopters of marketplaces. Pioneers enjoy stable growth and are looking at their internal processes to automate further – they could also be considering offline channels as part of their expansion. Shifting emphasis to push their brand and use online marketplaces for selective products only. To get the most out of marketplaces, Pioneers should invest time and resources into automated solutions that reduce cost. They also need to give more focus on marketing and sales, leveraging brand awareness and maintaining brand appeal
"Leaders" are large omnichannel businesses and international growth is their priority. They have complex needs but large internal resources. Despite their size, marketplaces can still represent an important channel for Leaders and they use marketplaces proactively to sell internationally. Their brand is essential to them and adds a premium to their products. Leaders require a bespoke product management system that sits across all sales channels to drive success and overcome challenges.
Online test to help businesses identify their persona and offer tailored solutions to their specific challenges
GS1 UK is launching an online test to help businesses understand which persona they are, with the results providing advice to businesses on how to get the most out of online marketplaces.
Participating businesses will have their answers analysed to accurately reflect the challenges they face when trying to maximise results from online marketplaces.
Gary Lynch said a tailored strategy is essential for business success.
"Successful online marketplace strategies will be the ones that suit the sort of business you are operating," he said.
"Our online test will make sure you are using the right tactics. Small businesses or 'Growers', for instance, need to look at how they handle complex order and stock management processes. They need to focus more on the use of automation systems – something larger businesses or 'Innovators' will likely already have in hand."
Online sellers: breakdown of the personas
The majority of online market place sellers, 63% of them, are typically small business and sole traders and fall into the Creatives or Traders categories. While 25% of online traders are Creatives, 38% are Traders. With turnovers of approximately £70,000 the 250,000 Creatives and Traders are contributing £17bn into the UK's economy alone.
Medium-sized businesses, Growers and Innovators, make up another 26% - 14% are Innovators and 12% are Growers.
Just 11% are Pioneers and Leaders, which are typically larger businesses: 8% are Pioneers and 2% are Leaders.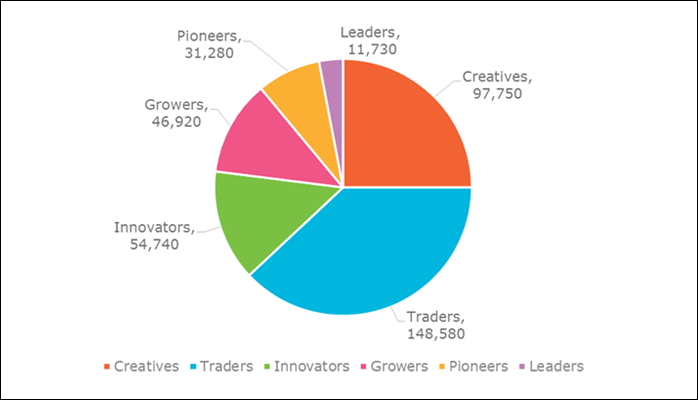 CHART: Breakdown of the total number of Online Marketplace Sellers in the UK
GS1 UK has been working with the Department of International Trade in providing small businesses with advice and information about how to accelerate exports.
Baroness Rona Fairhead, Minister of State for Trade and Exports at the Department for International Trade (DIT) said, "As an international economic department, the Department for International Trade (DIT) is committed to supporting British companies sell their products and services overseas. We have partnered with world-leading online marketplaces such as Amazon, Newegg and Rakuten, to create a Selling Online Overseas Tool especially for DIT clients. This tool allows UK companies to sell more easily on-line to international customers and to access negotiated discounts. It is available on http://GREAT.gov.uk. We urge UK SMEs to take a look!"
- ENDS -
Case studies
Zakera Kali, founder of Peace & Blessings – an INNOVATOR – said: 
"We considered an online marketplaces as one of our first routes to market. It's a great way to test the market with your products and the support you have from the marketplace can make your online e-commerce journey a lot easier. Since we are a luxury brand, we benefit from the exposure and association of our brand to curated or niche marketplaces who are targeting the same audience as we are."
Jay Sagoo, Director of Paw Soulz – a CREATIVE – said:
"As a start-up, having an online presence was absolutely essential for business growth. After all, everything everyone from our lawyers and graphic designers to our product suppliers and learning materials were sourced from online."
Catherine Curtis, founder of BabyHub – an INNOVATOR – said:
"Online marketplaces allow us to display our products to a mass audience, to respond to customers' concerns, and to sell – while maintaining a reasonable margin."
About GS1 UK
For further information or requests for interviews, please contact Tim Haidar: 020 7092 3584 / Tim.Haidar@gs1uk.org.
GS1 UK is a community of over 32,000 members working in retail, foodservice, healthcare and more. GS1 UK is one of 112 independent, not-for-profit GS1 organisations operating across 150 countries worldwide. GS1 UK helps everyone involved in making, moving and trading goods, automate and standardise their supply chain processes using the common language of GS1 global standards.