A new report from PA Consulting Group looks at the role of standards in today's world of digital technology and rising customer expectation
In the four decades since the first barcoded product was scanned, the retail industry has of course changed dramatically and continues to evolve at an unprecedented rate. Today it is the advances in digital technologies that are driving this change. Yet as the world moves ever more online, the barcode – and the unique number it represents – is still everywhere and continues to give customers and retailers control over their buying and selling decisions. 
Customer expectations are at an all-time high
Global online retailers and the easy accessibility of product data mean today's shoppers can search, find and compare almost every product imaginable across the internet. But this has resulted in shoppers' expectations also rising – not just in terms of product availability, but also the service and the entire shopping experience. They increasingly expect every retailer to offer what their previous best retail experience was. This puts ever more pressure on the retailer to deliver the best experience, all the time, across every channel.
To deliver this the retailer needs access to data – to analyse customer buying habits, to identify sellers and to track the movement of goods across a global supply chain. Without access to this data, easily shared between trading partners, today's retail industry simply wouldn't work.
And as technology drives the retail industry to become ever-more customer-centric, so it becomes even more important that customers have access to this data too – so they can make informed purchasing decisions, based on trusted and accurate data.
What does the future hold for global standards?

This is the situation that PA Consulting Group have looked at in a new report, Without global standards, can the retail industry give customers what they want? The report sets out two extreme worlds.
A world of complete customer-centricity, collaboration and trust. In this world we have agreed processes, some legislation and a sustainable pace of change. Importantly all producers and retailers operate in a fair and transparent eco-system.
A world of chaos, limited choice and distrust. In this world of speed, haste, no red tape, fast-paced innovation and proprietary technology, a dominant player could potentially become the 'de facto' retailer of choice, meaning other less 'powerful' retailers could lose out.
What future do you want to see?
At GS1 UK, we understand that the future of global standards is in harnessing the shift in power to the customer and hence, we must become more customer-centric. It's why we're working on industry programmes like Digital DNA that will give retailers, brands and shoppers a better shopping experience.

But we also understand that standards can sometimes be perceived as restrictive, expensive and slow to implement – they can even slow down the race to benefit from new technologies. But the alternative to having clearly defined standards can be a world in which customers are at risk of limited information and choice, or even counterfeit goods and potential health scares, leading to distrust and a breakdown in relationships between the retail industry and customers. 

The report from PA Consulting Group sets out two paths for the industry. We would love to hear your views so please take 10 minutes to read the report and decide what future you want to see – and then let us know what you think.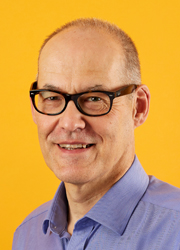 www.linkedin.com/gary-lynch


 @gary_gs1uk
---