With the holiday season fast-approaching, I've been taking some time to reflect on the year we've had in healthcare here at GS1 UK – and it sure has been a busy one.
Naturally, the best place to start is at the very beginning when we set our aims for 2019 – to support the unique identification of every person, every product and every place at each touchpoint along the patient pathway and healthcare supply chain.
So, to achieve this we decided to continue our clinical engagement focus, and to promote the use of our standards as an integral enabler towards achieving interoperability. All of which, serve to improve patient safety and operational efficiency, and reduce unwarranted clinical variation across the NHS.
Early in the year we were delighted to announce a brand new five-year partnership with NHS Digital. The partnership enables NHS trusts to use GS1 standards, starting with the patient wristband, and extending to LocationManager and consultancy. Trust chief information officers (CIOs) have now been made accountable for ensuring that their trust has an active GS1 UK membership, and for overseeing the effective roll out of GS1 standards.
However, in the same breath we saw the Scan4Safety demonstrator site programme successfully reach completion, and responsibility transfer from the Department of Health and Social Care to NHSX. Fortunately, the value of the programme has not gone unnoticed, and has been recognised by the Rt. Hon Matt Hancock as he referenced the programme in a speech delivered at the launch of the Topol Review.
These values were echoed when 11 Scan4Safety executives, joined us to meet NHSX chief executive officer, Matthew Gould and chief digital officer, Tara Donnelly.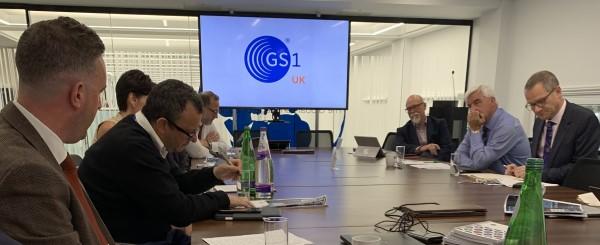 We have reached a point where we are now discussing next steps. But one thing I can say, is that we will soon be able to share the outcomes achieved by the Scan4Safety demonstrator sites – so there's something to look forward to for the year ahead.
On the topic of sharing the evidence, we also embarked on an extensive project to showcase our ever-growing portfolio of case studies with the launch of our healthcare portal. And more than 300 UK and international peers joined us in April to hear these case studies come to life at our GS1 UK Healthcare Conference – making it the best yet.



Some of the best demonstrations of GS1 standards in practice this year come from three quite different trusts – Royal Cornwall Hospitals NHS Trust, University Hospitals of Derby and Burton NHS Foundation Trust, and North Tees and Hartlepool NHS Foundation Trust.
Cornwall have introduced GS1 barcode scanning, as a means to validate medication prior to dispensing. Results showed a significant reduction in overall prevented error rates in dispensing of 76 per cent, eliminating all errors of wrong dose, wrong form and wrong drug.
And at Derby, they have linked GS1 standards and e-observations. In doing so, they have managed to reduce observation time per patient from five minutes 11 seconds to an impressive three minutes 22 seconds. That roughly equates to 20 nurses' time saved every day. If adopted across the NHS, that's the equivalent of 3,800 nurses!
The final example is North Tees where they have introduced GS1 standards as part of their application – CareScan+. With this, upon scanning the GS1 barcode on the naso-gastric tube, the clinician is directed to a patient safety alert which asks for confirmation that a Ph test has been conducted. Although this does not prevent incorrect insertion, it does ask the clinician for verification – holding them accountable to ensure the correct checks have been carried out to prevent harm to the patient.
Already in the months from April to October, a staggering 277 never events have been reported by NHS England and Improvement. However, the trusts noted above, provide clear evidence of how GS1 standards help the NHS save thousands of lives and millions of pounds. Better care does cost less.
To emphasise this message, our healthcare team have been engaging with those at the centre of delivering the digital healthcare strategies for their localities – CIOs and chief clinical information officers across England. Here are some highlights from our first edition sponsored by Zebra in Durham.





But no matter how we look at it, the future of scanning technologies in healthcare still comes into question, and that was evident from the HSJ roundtable we hosted in July.
Nevertheless, one thing is clear. Regardless of the form of data capture, without standardised data, healthcare will continue to operate within siloes – unable to share information between systems and organisations. Ultimately, that's where the focus should be, and until we are able to do so, we continue to risk the safety of the very patients healthcare is designed to protect. The HETT interoperability whitepaper entitled 'Interoperability in healthcare: Why the stakes are higher than ever' released in September, provides prime examples of how.
So, what lies ahead for GS1 UK's healthcare team in 2020? More of the same. We'll keep working alongside our stakeholders and partners, as we work collectively to promote the use of standards in healthcare. Stay connected with us throughout 2020 to keep up to date with everything we have in store.
To round off, I'd like to extend my thanks and congratulations to Professor Sir Terence Stephenson, Nuffield professor of child health at UCL Great Ormond Street Institute of Child Health. Professor Stephenson was recently commended with the GS1 Healthcare Provider Recognition Award for his commitment over the past five years.



And to Neil Hind, procurement lead at Greater Manchester Health and Social Care Partnership (GMHSCP), who was awarded as this year's GS1 UK healthcare champion for his work on GS1 standards across the eight trusts of GMHSCP.



Lastly, but by no means least, on behalf of all the team here, our thanks go to you – our partners, supporters, members and advocates, for your continued dedication and motivation to drive the adoption of GS1 standards in healthcare.
I can think of no better way to round off our year than with the thoughts in our video. It's a great reminder of the dedication professionals in healthcare put in every day to make our services work.
All that remains for me to do, is to wish you all a very happy festive period. I look forward to working with you in the year ahead.
With best wishes,
Glen