GS1 Global Trade Item Numbers used as the as the primary unique device identifier by more than 95% of medical devices
To assess the number of GS1 Global Trade Item Numbers (GTINs) used for unique device identification, GS1 Global Office and GS1 UK conducted a survey* of more than 2400 products. 
Products covered medical devices in cardiology, main stores, and prosthetics at Portsmouth Hospitals University NHS Trust, and the highlight results can be seen below.
Headline results
95% GTIN use across devices
More than 95% of the 2433 medical devices assessed use a GS1 GTIN for UDI.
12% rise in GTIN use than 2018
More GS1 GTINs used as the primary unique device identifier than in 2018.
21% use a GS1 2D DataMatrix
Use of the GS1 2D DataMatrix on product packaging has nearly doubled since 2018.
Results over time
The barcode survey was first conducted in 2016, then in 2018, and most recently in 2023. 
Of the stock keeping units (SKUs) reviewed coverage was found at:
70% in 2016
83% in 2018
95.5% in 2023
GS1 2D DataMatrix usage nearly doubled to 21% in 2023 from 2018
This indicates a significant uplift in GTIN adoption for medical devices in recent years. Many devices are shown to use a GTIN as the preferred unique device identifier (UDI) for regulatory compliance.
Verifying product barcodes
We can help you make sure the products you manufacture, supply,  or use, can effectively support Scan4Safety.
If you work for a hospital that needs a product barcode checked, please use this form to send us further information. 
If you work for a medical device supplier and would like to make sure your barcodes are accurate, please get in touch directly at healthcare@gs1uk.org. A member of the team will be able to guide you through the steps you need to take to accurately apply GTINs.
*The Portsmouth barcode survey was conducted across two days and Portsmouth University Hospitals NHS Trust. A range of supplier medical device products were scanned and the barcodes verified in this time. In total, 2433 products were scanned across cardiology, main stores and prosthetics. Results were benchmarked for comparison against similar surveys done in previous years. Thanks to the team at Portsmouth for providing permissions and facilitating the process.
Further information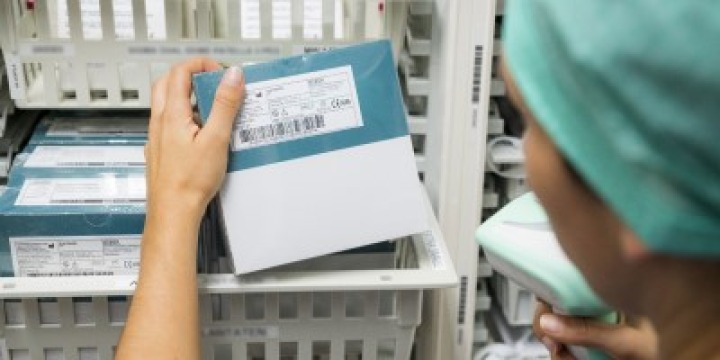 Product identification
Find out more about the GS1 Global Trade Item Number (GTIN) and its impact in healthcare.