How TRIP became the number one growing drinks brand in the UK and gained 50 million organic social media impressions. 
We recently attended Bread & Jam festival where we heard from many inspiring food and drink founders at different stages of their business journeys. One of which, was health and wellbeing drink brand, TRIP.  
Founders Olivia and Dan created TRIP to offer consumers some respite from the stresses of every day life. Containing CBD and other natural adaptogens, TRIP drinks help you find your calm and "unwind into your best self".  
TRIP is now the fastest growing soft drink in the UK and, since January 2023, has achieved 50 million organic social media impressions.  
We're sharing their story and insights on how they got there.  
Know your customer inside out
It's crucial to keep your consumer at the heart of every decision that you make. TRIP have gone to great lengths to know their consumer inside out. They get into their minds by asking questions such as what are they doing in the day? Where are they grabbing their coffee? Where and how do they commute to work? 
Trial and testing new channels are paramount and if you can pivot and react to changes in the market, that is a great strength. Olivia and Dan planned originally to sell their drinks in bars and hospitality. Due to the pandemic, they were forced to pivot towards retailers and on-demand delivery with Deliveroo. This demonstrated the importance to keeping your business agile as you may need to adapt. 
Keep your focus
Since launching in 2019, TRIP have added two more family members to the business as they grew to become the UK's leading premium CBD brand. With such huge growth, it's no surprise that the team and their operations have had to grow at pace.  
Olivia recommends keeping the focus of your brand and team culture on the challenge you are trying to solve. Share community stories with your team and remember why you started this journey. For TRIP, this means keeping the company slack channel regularly updated with messages from their community and customer to constantly remind the team of the positive impact their work is having and their drinks are supporting their customers wellbeing.  
How to get listed with retailers
Olivia concluded by sharing her top tips for getting the attention of retailers to drive sales of your product. 
GS1 UK membership is a yearly subscription and, as a member, you'll have access to a host of free resources and unique opportunities to support you on your journey as a food and drink challenger brand.   
If you would like to know how to get starting using barcodes and other GS1 standards, read our getting ready to trade guide. 
2. View brands in adjacent categories as allies
They add pressure and get attention from buyers. This helps with education and awareness, leading to new opportunities and openings in store listings and layouts. One challenge TRIP have is the stigma around CBD and mental wellbeing. 
3. Use a creative approach to get attention from buyers
TRIP built a relationship with buyers by sending care packages containing product samples to everyone on the same floor as the buyer they we're trying to grab the attention of. They recommend sharing useful information to build a picture of your brand as a strategy, rather than getting in touch with questions and asking retailers how to get listed.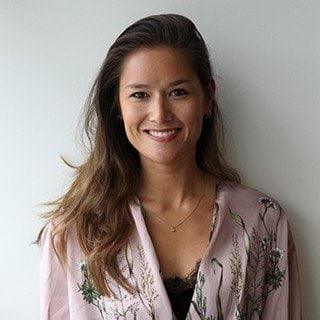 "
It's not an overnight success. Don't give up, keep trying different things and if you receive a no from a buyer, find an alternative solution such as offering a trial in the future or keeping them updated with news about your product."
Olivia Ferdi
Founder, TRIP drinks