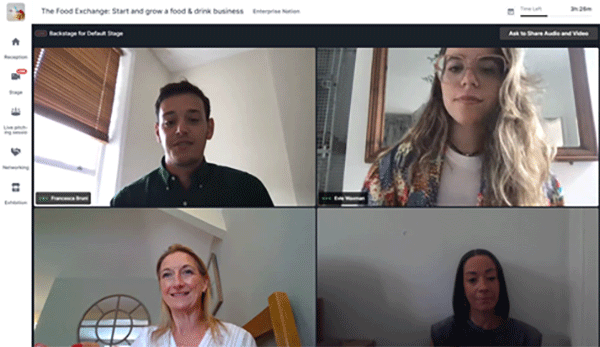 GS1 UK recently hosted a panel session at The Food Exchange by Enterprise Nation, a partner we work with on a number of events that support small businesses and challenger brands with growth opportunities.
The exchange events aim to put small businesses in touch with brand buyers looking for new products. They also provide insight from industry experts on how to pitch their products and grow their business through sales and marketing. 
We invited Raw Bake Station's founder Evie Waxman, Two Brooks's head of sales and marketing, Paolo Bruni, and Tom's Teas founder, Anna Stopps, to talk with Sarah Atkins, our CMO and membership director, about their route-to-market strategy and how they identified growth opportunities.
How did you initially start and grow your business into the first line of production?
Raw Bake Station
After coming back from travelling around Australia and having gained a lot of knowledge about the vegan world, I wanted to create a raw and vegan snack bar company. 
I started making products in my mum's kitchen, and for the first three years we were juicing everything ourselves and selling on market stalls. We had about five chilled products which we managed to get stocked in Planet Organic but couldn't get into Sainsburys or larger retailers due to the short shelf life of our products. We took the tough decision to delist this range and thought about what we could bring to market with a twelve-month shelf life. 
We went away and worked on an ambient range – our cookie range – and transferred production to a factory in the South East. It took about a year to find the right production partner – initially we used Young Foodies to source them and networked from there. 
Our first listing with this new range was in WHSmith, and we realised there was a bigger potential to grow the offering further. Despite our customer base for the chilled products, we made a complete U-turn and stopped production as the growth opportunities weren't there, and now we solely focus on the cookie range. 
Tom's Teas
Initially, after contracting out the idea for a children's tea, I tried to do it myself in my kitchen and realised very early on that I wasn't a tea blender. 
I started by googling tea blenders and asked them to send me samples. Unfortunately, the listing for my initial partner selection fell through as their certificate had run out. As a German company they didn't need to meet UK regulations and hadn't seen a need to renew it as they weren't trading with anyone else in the UK. With the first tea blend I also didn't own intellectual-property rights, which was important to me.
 
After a year, I eventually found an amazing company that supplied to some of the finest tea houses in the world, and they liked my story and gave me a chance. 
I went to go and meet them to build a relationship and be part of the blending process. They have all the certifications required and can't do enough to help me. We're currently working on a top-secret special Tom's Teas blend.
 
Two Brooks
It was very tough to find a partner, as you're trusting someone with thousands of pounds of your own investment to make thousands of cans you then need to sell. You want to get it right the first time, so we saw quite a few partners and made the recipe along with them, sampling as it went along to find the product we wanted to take to market. 
The first production partner we chose was smaller, to test the market, but this arguably wasn't the right choice as the capability wasn't there for them to scale upwards. It was a lengthy process to get to the right recipe, but we're happy to be where we are now. 
Finding the right partner through directories, investors and networking is essential. Only a true partnership can help with innovation and brand building.
 
How have you identified your consumers and chosen your first channel to market?
Two Brooks
The difficulty we had in choosing the channel to market came from the fact that hard seltezrs are a completely new product to the UK. 
Sparkling alcoholic water with fruity flavours didn't exist, and trying to get people to try it was difficult. We were quite aggressive with a direct-to-consumer approach, which continues with to this day in a changed attitude towards launching. 
Initially, we went to market at the beginning of 2020 through traditional channels such as convenience stores, retailers and farmers' markets. As soon as the pandemic hit, this could no longer happen. 
Instead, we had to think of a different approach and identified online as the key channel which we needed to make flawless. We put our plan for the other channels on hold and we focused on building our brand equity, customer base and awareness through online campaigns to have a stronger proposition and more momentum when pitching to those traditional channels at a later date.
In hindsight, it would have been much more difficult approaching the primary-sales route first, as we had no quantifiable data to demonstrate demand for a new category.
 
Tom's Teas
As a new drink's category, I took my children's tea product out on the road to school fayres and Christmas fayres to trial it with children and parents to get their reactions first hand. 
Once all of that closed down due to the pandemic, I had to focus on a direct-to-consumer approach through my e-commerce website. I don't do any marketing activity with it as I'm a one-man band and don't have the time to. Instead, I created partnerships with other brands and ran competitions to raise awareness. To further build sales, I also export, which happened accidentally but is now a key focus for me.
 
What exporting tips can you give and how did you find that route to market?
Tom's Teas
Sign up for guidance from the Department of International Trade (DIT), they have been brilliant. There have been so many opportunities with them, including an exporting conference which produced so many leads for me. It's a free service and they are happy to connect you to the right people, including banks.
 
Raw Bake Station 
We've done a lot of exporting over the past 18 months, and DIT have been a huge help in terms of preparing for our first export deal, fulfilling orders and walking us through the whole process.
 
Two Brooks
Export isn't as scary as you might think. You don't know about legislation in the different countries – frameworks, documents to fill in and how to go about it. What I thought was reassuring is that identifying the export partners isn't the hard part as there are so many tools to use to your benefit. Once you've identified them, completed your pitch and are in contact, they help you with your exporting journey and become your partners.
Last month, we secured a distribution deal with one of the biggest distributors in Bahrain who have been extremely helpful over the past few months answering questions since it's in their best interests to do so. We now have a container on its way to Bahrain to be sold at the beginning of summer. Once you go through the process once, it forms a template for other countries. 
 
What was the most important thing you did to identify your customers and reach out to them?
Tom's Teas
My top highlight so far was getting listed with Holland and Barrett from a pitching opportunity through Bread and Jam on Facebook. There are also so many awards that go around which are free to enter and if you have a few it's good for business and free PR!
 
Two Brooks
To understand the end consumer and what they look like, we used market-research companies to build our audiences, based off of keywords and searches. The second thing we did was run our own digital-marketing ads across social media platforms and analysed the data to segment precisely and identify our online audience.  
 
Raw Bake Station 
For consumer growth we did lots of sampling and gained brand loyalty from our market stall customers who enjoyed watching us grow and acted as advocates. For a bigger push on brand awareness, we went on Dragon's Den and reached a lot more consumers. Be persistent, and if you're passionate about your product, it will shine through. 
About our panelists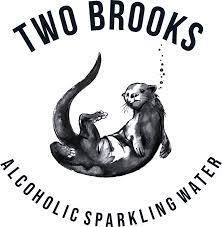 Two Brooks is all about the natural and the simple, with their range of fruity, alcoholic sparkling water. Naturally low in calories, gluten-free and vegan with no added sugars, their hard seltzers are the ideal alcoholic beverage for a health-conscious society.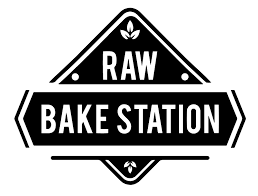 Raw Bake Station are an all-vegan sweet treats company, with all products free from gluten, grain, refined sugar and dairy. Innovative treats with a nutritious twist that are "criminally good."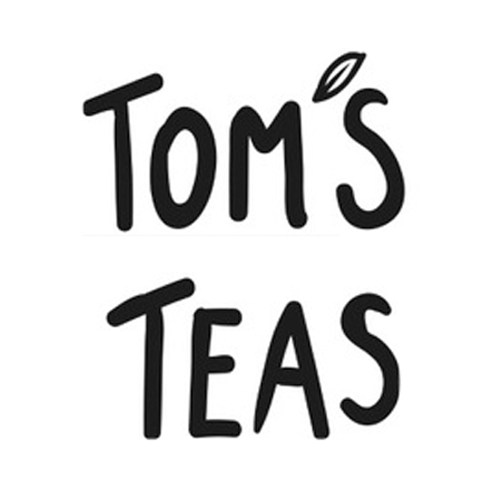 Inspired by children for children, Tom's Teas are a fruity tea infusion enjoyed hot or cold, and containing no caffeine, added sugar or artificial sweeteners. Aimed as a healthy drink alternative to encourage children to take a moment out of their day and enjoy a cup of tea.  
 

How can GS1 UK help your business?
GS1 UK is a membership organisation where our barcode numbers are licensed annually to members along with other services. GS1 UK provides businesses with industry-recognised and approved barcodes to trade successfully online and in a store across the world. 

Using GS1 barcodes ensures Google and customers can find your products through online search, that you can list successfully on online marketplaces such as Amazon, and be processed seamlessly through retailer new-line forms.

For businesses just starting out, we have a special membership offer exclusively available with our community partner, Enterprise Nation. You can get 10 barcode numbers and 10 barcode images for just £50 + VAT per year.