We all know data is becoming increasingly important, particularly with shoppers demanding more and more about information on products they buy. But managing this data can become quite overwhelming, and result in errors if it is not handled correctly. 
To help you get on top of your product data, our senior engagement manager, Jacky Broomhead, shares seven tips to help you develop a comprehensive master data strategy. 
---
Almost five years ago, I was in a café with a friend who is gluten intolerant, and when we asked the waiter if there was anything gluten free on the menu, he replied, "yes…water." 
Fast-forward to just before the outbreak of COVID-19, and I was out for lunch with a work colleague who is a celiac and vegan. We explained to the waiter about my colleague's dietary requirements, at which point the waiter alerted their manager who was able to produce a full menu, broken down by dietary requirements. What's more, only the manager was able to take my colleague's order. 
In a relatively short space of time, there has been a significant shift from dietary and health conditions being seen as a fad or a nuisance. Similarly, responsibility for consumer wellbeing has become something  that companies take very seriously, as a key source of corporate risk. 
With allergies on the rise, almost half of British households have at least one person with an allergy, manufacturers, retailers and brands need to provide clearer and more in-depth information on the products they sell.
This is only going to become more apparent with the increasing popularity of online shopping: 
"When customers are in our stores, they can see products and check the product information themselves, so they have trust in what they're buying. With more people shopping online – and many doing this for the first time – they are not able to pick up and look at the products themselves, so the data we share with them is even more important."

 

Andrew Hughes, director of commercial transformation at Tesco
But all this additional information isn't going to manage itself, and master data has now become a strategic priority for many large organisations. This is because retailers are increasingly making the link between high-quality, rich data, with regulatory compliance (such as EU1169, Natasha's Law and HFSS), operational efficiency and happy customers. 
It is no surprise, then, that the likes of Sainsbury's, Tesco, John Lewis, Waitrose & Partners, Asda, Selfridges, Co-op, Morrisons and Boots, have all recently completed, or are in the process of, master-data management programmes.
The trifecta of master-data management
There are three basic elements to consider when it comes to master data:
Information − what data are you capturing and how are you organising it.
People and process − who creates and maintains your data and how are you doing it.
Technology − what technology are you using to manage your data.
Intrinsic to all three is data quality, which feeds into the seven steps outlined below.
Seven tips for maximising you master product data
Consider how your data is structured
As a brand or manufacturer, your data will ultimately be shared with your retail customers, so we recommend structuring it in a standardised way.
Using data standards ensures that you are speaking the same language as your customers, meaning less work involved in translating or mapping your data to meet their requirements.
Standards also ensure consistency in your data, so you are describing each product in the same way, using the same terms. This ultimately drives data quality.
More and more, UK retailers are looking to standardise their data, and brands are increasing challenged by a world that wants increasing amounts of information.
If you can organise your data in one common way, this puts you in a great place to grow. 
There are three ways you can look to standardise your master data:
Identification – using Global Trade Item Numbers (GTINs) to ensure unique identification of your product around the world
Classification – group or categorise your data using the industry-standard Global Product Classification (GPC) 
Attributes – describe your products using the Global Data Dictionary (GDD)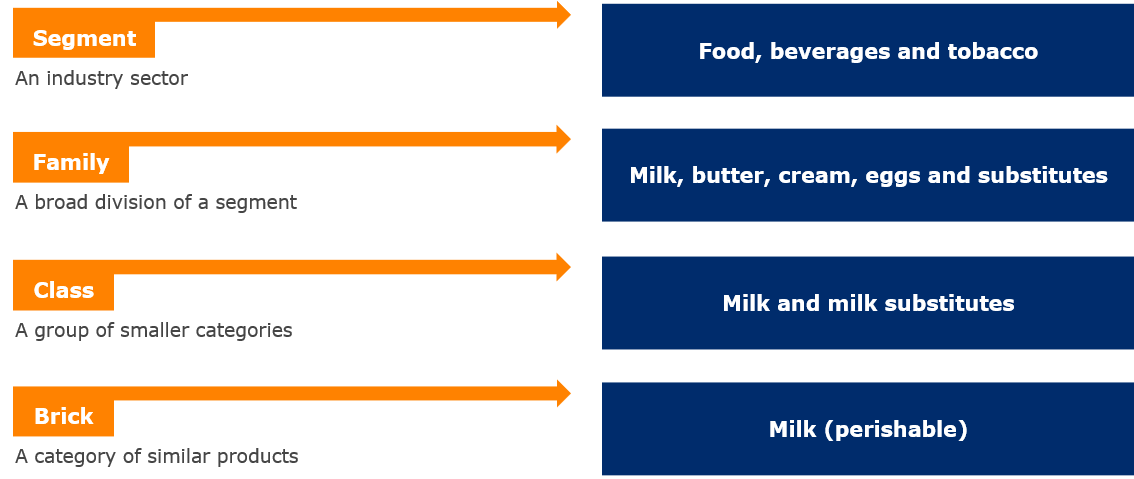 Gather ALL the data you can
Once you have structured your data, gather all the information you can. Whilst this might sound excessive, in the age of Natasha's Law, the sugar tax and the war on plastics, it is no longer acceptable for brands or retailers to be ignorant about their products. We are seeing a consistent trend of retailers asking for more and more information. 
In the 1990s, food suppliers started to provide nutritional data on all of their products, then they began to log supply-chain data to support automated warehouses, then it was e-commerce data, allergen data and dietary type.
Most recently, retailers have been asking for waste packing and recycling information. Soon, it will be more common to provide data on supply-chain transparency and sustainability. 
Pre-empt these changes by collecting as much relevant data as you can up front and organising it in a system.  
The person closest to the source of the data should create the data
When you are first starting out in business, who should manage your data is a bit of an after-thought. Typically, completing a new-line form will fall to the commercial teams, as they are closest to the retailer. 
As retail becomes more digital, is it even something we need a person to do? Could we use a system? Could we automate how we share data?
Best practice suggests that the person closest to the source should create the data. Who that person will be is specific to each business, depending on how you are set up and what products you're making. 
It could be someone at the plant closest to manufacturing. It could be the team in product development that knows what new products you are making. Whoever it may fall to, by entering the data closest to the source, it ensures the best possible chance of accuracy. 
Creating data is one thing, but it also needs to be maintained
It may seem obvious, but maintaining data is as important as creating it. For example, a few years ago, we were working with a brand that decided to change the orientation of a label on a product.
It was a rectangular box of crackers. This meant that rather than the label running vertically aligned to the longer side of the box, they changed it to run horizontally.
Technically, this didn't change the size of the box, but it did change the front face, which changes how you measure the box and the information that you then need to communicate to your retail customers. 

So, because they had changed the label, it changed how the box sat on the shelves in store, and the new box no longer fit into the space on the planogram.
Large supermarkets are designed to work with round pegs for round holes. In this instance, when the stock didn't fit on shelf, it went back into the storeroom where it sat for two weeks, until the information went back up the chain to the buyer and then the supplier rectified the issue. 
The brand lost two weeks of sales for something that was easily avoidable if they had followed the GTIN management rules – the three guiding principles that determine whether a product requires a new GTIN:
Is there an impact on the consumer?
Is there a regulatory impact?
Is there a supply chain impact?
You can find more details about how to maintain your product data and when to change your GTINs here: www.gs1.org/1/gtinrules/en/
Senior sponsorship is the key to a successful master data management strategy 
As your business grows, you may choose to form a master-data strategy and invest in technology to support this. In order for your MDM strategy to succeed, you will need senior sponsorship. 
If you think about master data, it comes from all parts of your organisation, from the ingredients and product aspect, to marketing imagery and copy, supply-chain data and measurements.
To bring all of this data together, you need a senior voice to assent to the necessary changes. Although this may all be coordinated by a master-data manger, without support from above, your strategy just won't get off the ground. 
Where possible, use technology to create a single source of data
A single source of data is also a single source of truth – rather than managing information on different spreadsheets and across different systems, it is all in one place. This improves data quality as you only have one source of data to maintain, significantly reducing the time and effort required to manage and procure data.
Lastly, it also helps decision making as everyone across your business is making choices based on identical information. 
No matter the size of your business, there are better tools than Excel
Many start-ups use Excel for managing data management, because it is familiar and straightforward to use. 
However, it is not the ideal method for managing your master data, as it lacks some of the fundamental attributes necessary for good data management, such as an audit trail, user rights and securities, and validation rules. 
There are a number of good alternatives to Excel, some of which are free. A couple of these alternatives include:
My Numberbank – A free GS1 UK database, that allows you to create and assign GTINs, as well as hold up to seven attributes per product in a secure central location. 

productDNA – Developed by the retail sector to solve the duplication of effort and issues with data quality that exist in retail today.
The platform is built around a standardised industry catalogue that can hold up to 270 attributes per product, including all the information requested on a new-line form as well as e-commerce data and imagery. The productDNA service also includes a data-quality check to verify data accuracy across the retail industry.