As of February 2021, Amazon are removing the option to 'provide shipment information only' when letting them know what inventory you will be sending against their POs. This means you'll need to update your internal processes to use one of the following three options:
Print labels through Vendor Central (AMZNCC labels)
Print your own labels and provide Serial Shipping Container Codes (SSCCs)
Send carton level information via Electronic Data Interchange (EDI)
Updating your processes will also stop you incurring the chargebacks that are currently applicable for the 'provide shipment information only' option. 
What do I need to do?
You may have seen the following messages below in Vendor Central, providing details of the upcoming changes. 
Important: Providing carton label information is required when shipping freight to Amazon and non-compliance will result in a chargeback. On January 21, 2021, we will remove the ability to bypass this workflow when submitting ASNs on this website.

 

The maximum number of cartons you can print AMZNCC labels for is 2,000. The maximum number of cartons you can print your own labels for is 40,000."
Together with our friend Christopher Khoo, from Khoo Commerce, the Amazon Vendor automation software solution, we explore what the changes mean for an Amazon Vendor seller to ensure compliance.  
You have three options for sharing carton level information:
Option 1: Print AMZNCC labels through Vendor Central 
There are a series of new features in Vendor Central to facilitate single-SKU cartons. This is well suited to Vendors who provide large volumes of case packs on the same ASIN.
AMZNCC labelling remains unchanged from the current process. Amazon have also added the option to upload the carton packing data via a spreadsheet upload, which can be found on the option "I will use the spreadsheet template (updated)"
N.B. If you are finding this is a very slow process for you then automation software, such as Khoo Commerce, might be able to help streamline this for you. Mixed cartons and large orders can result in a lot of paperwork. 
Option 2: Print your own labels and provide SSCCs 
Amazon have launched a new series of screens that allow vendors to:
Enter your own SSCCs into a text box 
Assign the PO-ASIN-Qty to a specific SSCC 
Use GTIN labels (requires an updated Global Data Synchronisation Network (GDSN) data pool record with Amazon)
You will need to create and assign your own SSCCs.
Option 3: Send carton level information via EDI 
If you have the carton level information stored in an internal system like KhooCommerce, you can transmit this data via EDI and include the SSCC in the dispatch advice message. For full details, refer to the DESADV folder in the "Amazon EDI Specification Package" in the resource centre. 
The main benefit of this is to become license plate receive compliant. For more information on license plate compliance, there is a training in Vendor Central under "Support > Training Topics > Operations > Shipments > License Plate/GTIN Goldlist Receive".
License plate receive grants an number of benefits that can include increased speed to receive process, increased accuracy, reduced shortages and more. Currently this is only available with SSCC barcodes. 
Option 4: ** Removed from 31st January 2021** Provide Shipment Info Only - Do not provide carton level information.
This option is being removed and currently incurs a chargeback at £0.05, €0.06, $0.10 per SKU received. For example, if you have 48 units in one box, you would incur a £2.40 chargeback.
Lets take a look at the pros and cons for each option: 
Method
Benfits
Drawbacks
Print AMZNCC labels via Vendor Central

Familiar to current process
New spreadsheet upload could be helpful

Need to assign each AMZNCC to the correct line
Speadsheet needs to be collated from internal pick/pack lists
Paperwork is high - delay while admin create the ASN
AMZNCC are Amazon specific identifiers

Print your own labels and provide SSCC in Vendor Central

New way to implement License Plate Receive
Complies with GS1 standards of barcoding
SSCC creation process will work for all channels

Have to create and assign SSCCs to each carton manually
Have to replicate the carton level information (at this stage)
Paperwork is high - delay while admin create the ASN

Send SSCCs via EDI

Automatically capture carton level information 
Combine several POs together in one shipment
Fully License Plate compliant 
Reduced paperwork - more electronic
Greatly reduced work for administration
Complies with GS1 standards of barcoding

Requires investment and setup to implement systems
Process change will be new to staff
Often requires new technology in the warehouse
Slightly increased work for warehouse staff

Only send shipment information  **REMOVED FROM JAN 31 2021**

Simple and fast - could increase shipping speed and reduce vendor lead time
Suited to high value, low volume, high margin products

Incur substantial chargebacks per shipment
Acronyms, acronyms everywhere! 
But what are AMZNCCs and SSCCs, I hear you say….
Well, SSCC stands for Serialised Shipping Container Codes and if you are a member of GS1 (which is highly likely if you are trading on Amazon, given GS1 GTINs are mandatory for most categories) you are able to create these identifiers from your GS1 UK company prefix as part of your membership. These labels can also be used on any units that are transported between companies. For example, drums of chemicals, rolls of fabric or paper, pallets of raw materials, part pallets, or individual traded units.
The SSCC provides a unique identifier for each logistics unit and is sometimes called the license plate. It contains no information about the logistics unit's contents, but provides a link to systems where the information is held. 
The SSCC is an 18-digit number and contains your GS1 company prefix. The company assigning the SSCC is responsible for ensuring its uniqueness. Each one can be reassigned one year after it was created and last used in communications.
They work best in conjunction with EDI messaging services to send automated notifications to Amazon to tell them what will be arriving at their warehouses, when and a GS1-128 barcode to enable Amazon to scan the information. 
How is an SSCC created? 
Depending on the length of your company prefix, the 18-digits are structured as follows:
| | | | |
| --- | --- | --- | --- |
| Extension digit | GS1 company prefix | Serial number | Check digit |
| 0 | 5012345 | 123456789 | 3 |
| 0 | 50423456 | 12345678 | 1 |
| 0 | 505234567 | 1234567 | 9 |
| 0 | 5062345678 | 123456 | 9 |
Extension digit – this can be any value before 0 and 9 and allows you to create SSCCs.
GS1 company prefix number – this is allocated to you when you join GS1 UK and is available in My Numberbank when you login.
Serial number – this number is between six and nine digits in length, depending on the length of your GS1 company prefix, and is allocated by the company identifying the pallet. Each individual pallet requires a different serial number.
Check digit – a calculation over the previous 17-digits. The calculation is the same as used for the other GS1 identifiers, such as GTINs and GLNs. The check digit calculator can be found in the members' area in the Tools & Resources menu when you login. 
Please not that SSCC should be used as an 18-digit number within companies' computer systems. 

Lets have a look how this translates into the Amazon label requirements: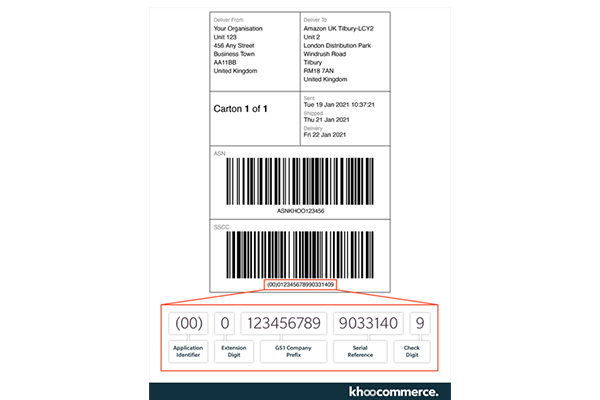 What's the difference between an AMZNCC and an SSCC? 
An AMZNCC is an Amazon specific container code so these will only work for sending inventory into Amazon. Like with all our standards, a GS1 SSCC is channel agnostic, meaning it can be used for any retailer. 
So, if you sell through more than one channel it might be more beneficial for your business to create an ASN/carton labelling process that will work for all of them to save you both time and money. 
Click the following links for more information on using SSCCs and EDI. You can also view the full article from Khoo Commerce on the changes here.