Why GS1 GTINs?

The GS1 Global Trade Item Number (GTIN) provides a number of crucial advantages for you and your company in the realm of worldwide trade. ​
These have the ability to not only help you trade better and smarter but can also fast-track the growth of your business, both at home and abroad.​ Four of the main benefits of the GS1 GTIN include that it's: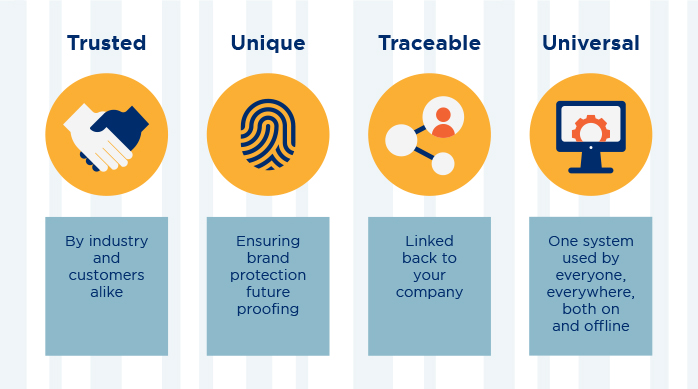 Trusted – The GTIN has been used for more than 40 years as a worldwide reference point for product identification across multiple industries
Unique – Your GTIN codes uniquely identifies three things: the country where your product was licenced, your company and the product itself
Traceable – Everyone in your supply chain uses one interoperable system and this compatibility facilitates tracking
Universal – Your GTIN and accompanying barcode can be scanned and is recognised anywhere in the world
The GTIN in the world of e-commerce
The GTIN is as relevant to the trading process in the digital age as it was at the advent of scanner technology.
In this guide, we outline the main advantages that harnessing the power of the GTIN can provide for those at all junctures of the e-commerce journey.
---
Start your trading journey now
Find out everything you need to know about joining GS1 UK, our pricing guide and how many GTINs you can get.
---