The industry-wide problem of poor quality product data
---
Author: The industry-wide problem of poor quality product data
In the first of 4 articles, Jim Dickson, Head of Retail Grocery at GS1 UK, looks at the problem of poor quality product data, and how industry is finally working together to resolve it.
For many years, the grocery sector has had a problem with managing product data. It's often inconsistent, inaccurate or incomplete, and multiple versions of the same data can create even bigger issues for retailers, brands and customers. In fact, it's estimated that the UK grocery sector is incurring £140m of direct costs each year as a result – and over £200m a year when lost sales are included.
These inefficiencies are often hidden in duplicate processes and manual checks. This waste of valuable resources impacts not just the bottom line, but the speed and efficiency of moving products through the supply chain too.
In today's extremely competitive and challenging market, retailers and brands need to focus on future developments for their business, but too much time is being spent on unnecessary tasks to prevent them from doing so.
Solving the problems with product data will allow them to focus on what really matters to them: differentiating themselves from the competition, and investing in product innovation and new channels – leading to real and sustainable sales growth.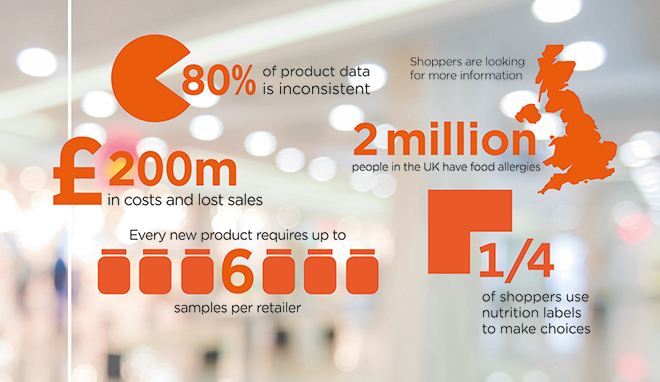 Why retailers and brands are acting now
We all know that shopping habits are changing – driven by changing lifestyles and technology.
Today, many customers are buying their groceries more frequently and in smaller amounts. This has driven the surge in convenience stores from the largest grocery retailers over the past 10 years. At the same time, larger shopping trips have been replaced by online deliveries and click and collect.
Many customers have also started to become more concerned about health, wellbeing and environment, and often have specific dietary and allergen needs. This means customers need to know more information about the groceries they buy – and more and more customers expect this information to always be available, both in-store and online.
These changes are presenting enormous challenges to the grocery sector, and retailers and brands are struggling to keep up and respond.
Today, there is a need to always provide the right product, at the right place, at the right price and at the right time. This is putting increased pressures on the supply chain and existing systems and processes – in particular, the sheer quantity of product data that is being shared between brands, retailers and customers.
But not all is lot. As a not-for-profit membership organisation, GS1 UK has been able to bring the grocery industry together to discuss the issues with poor product data management. And the good news is that by working together, we've found a solution, which we'll look at in detail in my next blog.

E: jim.dickson@gs1uk.org
T: +44 (0)7823 526354


www.linkedin.com/jim-dickson
---
Related
Digital DNA - an industry game changer
Why the new product introduction process must be improved
GS1 asks industry to help develop guidelines for online product images