The world has changed significantly since the introduction of the barcode in 1974 and, with it, the demands for accurate data have increased. That is why GS1 has developed new standards to support modern supply chains and consumer needs. 
GS1 has been the home of the barcode for more than 45 years. But what does the barcode tell us about the products we buy? 
The linear barcode, that most of us will be familiar with as the black and white vertical lines scanned at the checkout, holds a limited amount of information on a product. It actually only holds the number that sits below it in binary format. That number acts as a key to data held by the retailer such as the brand name, the product type and variation, weight, product category and price. 
But barcodes need to start working harder. 
Shoppers are constantly demanding more information about the products they buy, from where it was farmed to how best to use and recycle it. Retailers are becoming overwhelmed by the sheer volume of data that comes from multiple sources in different formats, which is increasingly tricky when it comes to product recalls. 
This is where the a 2D barcode comes in.
You will have seen a 2D barcode before. They look similar to QR codes and can be found on some prescription drugs. The benefit of a 2D barcode over a standard linear barcode is that it can encode more data, much more data. It can carry details like the batch and lot number of an item, which are key in healthcare, as well as expiry dates, making it perfect for fresh-food tracking. It can even alert you that a product is past its expiry date when scanned at the checkout, and the system will prevent the purchase from taking place. 
Australian supermarket giant, Woolworths, has already trialled the use of 2D barcodes to help reduce food waste and sales of expired products. Their general manager of business enablement, Richard Plunkett was quoted saying; 
2D barcodes have immense potential and we're excited to see how they will improve safety, traceability and stock management." 

 

Richard Plunkett, general manager of business enablement at Woolworths
As well as increasing the amount of data available, 2D barcodes take up significantly less space on packaging than a traditional linear barcode. This allows for more space on the product label, space that can be used to show off your brand credentials or provide richer insights on your product, helping you to build greater trust with your customers. 
So how will this tiny black and white square change the way you package your goods?
There has been a rise in products coming on to the market with several different barcodes featured on the packaging. For example, we have seen a Coca Cola bottle feature three different codes on one product.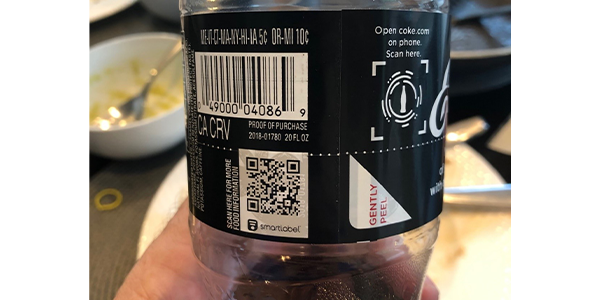 One EAN linear barcode for point of sale
One QR code for smart label nutritional information
One proprietary code to enable marketing activities  
On a product with not much room for label space, this is a lot of real estate to use up. 
Coca Cola are not alone in this however, it is especially prevalent on products sold in the Far East given the QR code is far more adopted into day-to-day life than here in the West.  
We are now working with Coca Cola and many more of our members to help find a solution to this problem.
GS1 has a new standard in town
Ratified in February 2020, Digital Link does as the name suggests and enables product information to be linked digitally, all from one data carrier (or barcode). 
Enhancing the experience for consumers and patients around the globe while strengthening brand loyalty, improving supply chain traceability, patient safety and efficiencies whilst bringing barcode scanning into the 21st century.
Similar to the way a web address (URL) points to a specific website, GS1 Digital Link will enable connections to all types of business-to-business and business-to-consumer information. And, instead of being limited to one type of data carrier like a traditional barcode, brands can now use a QR code, radio-frequency identification (RFID), GS1 DataMatrix tag or near-field communication (NFC) to deliver this information to their customers.
Use one barcode - online and offline
The introduction of GS1 Digital Link does not mean that the use of the barcode is changing. Quite the opposite: brand owners and retailers will still use the ubiquitous barcode for years to come - only now they have the future opportunity of migrating to a single, web-enabled barcode. 
This supports the old adage of less is more. Less space, more marketing. Less high definition, more readability. Less barcode, more data.

Get involved 
To learn more about 2D barcoding, explore the potential of GS1 Digital Link for your business, or to participate in a proof of concept or pilot study, contact GS1 UK by emailing support@gs1uk.org or give us a call on: 0808 178 8799