In a series of blogs from our healthcare conference sponsors, Mark Vallentine, Implementation Manager at NHS Supply Chain, looks at the changes happening in NHS Trusts across the country
Perhaps the best thing about being part of NHS Supply Chain's eDC team is the opportunity to witness first hand all the positive change happening in trusts on a daily basis. Less in meeting rooms or on PowerPoint slides, more in hospital goods-in areas, stock rooms and theatre suites. These are the places where small change happens daily that has some of the biggest impact on patient safety, adoption of effective and efficient operational processes, and sustainable reductions in operating cost.

The beating heart of this change of course, is not expensive systems, management consultants, policy change from senior teams, or even the clinical staff who, by necessity, have an all-consuming patient focus. In our experience, it's the band two and three materials management and stores professionals who have the opportunity to 'be the change' in a cash-strapped theatre or ward suite.

There is a 'low-cost or no-cost' way to leverage these teams as well. As the American author and lecturer Dan Pink lays out in his book on workplace motivation , all it needs is to instil three things: autonomy (being self-directed), mastery (the feeling that you are good at what you do and recognised for it), and purpose (a sense of doing something for the greater good).

The last one is perhaps the easiest to instil. Even as non-NHS employees the sense of purpose we get when we help free up nursing time through process change, or facilitate the removal of expired sterile implants from shelves, is immense in our team. For a direct NHS employee that sense of purpose must be all the more motivating.

To instil a sense of self-direction and autonomy in stores and supply chain staff, one could argue is as simple as listening to their experience and trusting them to make the right decisions. Yes, the clinical team knows best how to apply a product, but surely the vast majority of the non-clinical stock management decisions should lie with the professionals in that field?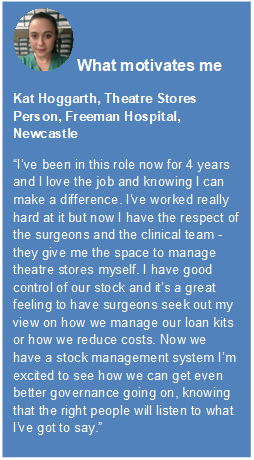 Which brings us to 'mastery', which in our own team translates into the opportunity to make mistakes in a safe and trusting environment. Lessons are learned when we implement eDC or eDC Gold which provide opportunities to enable us to get better at what we do. 

Without a doubt, the trusts that we've met that forge the most successful changes are the ones where the supply chain or materials management teams are respected and listened to. As valued professionals they are given the right amount of space by trust management to make mistakes and learn from them, and, like us, are passionate about the NHS and what it can achieve.

Mark Vallentine, Implementation Manager
E: Mark.Vallentine@supplychain.nhs.uk 
@NHSSupplyChain
About NHS Supply Chain
NHS Supply Chain is operated by DHL and managed by the NHS Business Services Authority (NHSBSA). It supports the National Health Service and other healthcare organisations in England and Wales by providing end to end supply chain solutions. NHS Supply Chain is working closely with the NHSBSA, to build on savings already achieved, to deliver its £300 million cash releasing savings target by September 2018.
For more information please visit: www.supplychain.nhs.uk
---