Nick Brown, head of sustainability – Great Britain, at Coca-Cola European Partners Limited explained the company's stance on recycling and deposit return schemes (DRSs) – where consumers receive money back for their empty drink containers at the point of recycling.
From Coke's early soda fountains to successive generations of its iconic contour bottles, the company has a heritage of sustainable packaging.
In 1991, it began using recycled PET plastic in its packaging and constructed the UK's first and only bottle-to-bottle reprocessing plant in 2012, which funds the collection of plastic bottles by local authorities.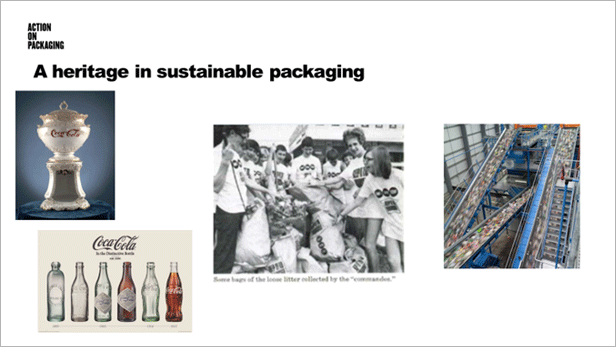 In 2019, Coca-Cola switched the colour of its Sprite bottles from green to clear, making them easier to recycle into new bottles. In early 2020, the company is set to become the largest user of recycled PET plastic in Great Britain, with all of its plastic bottles comprising at least 50 per cent.
As well as the movements that Coke is making in its supply chain, the company is also increasing consumer awareness about recycling with a concerted marketing drive and community-based projects.
In 2017, they introduced smart Coca-Cola fountain dispensers, known as Freestyle machines, to the University of Reading campus.
The machines work with refillable containers that contain RFID tags. Students can buy soft drinks in reusable bottles, which Coca-Cola can then track by popularity and refill frequency. This system has reduced the packaging footprint for producers and consumers alike.
Coke's "Round in Circles" campaign, launched in conjunction with Recycle Week 2019, seeks to highlight the circular journey that single-use plastics can take if they enter the recycling loop.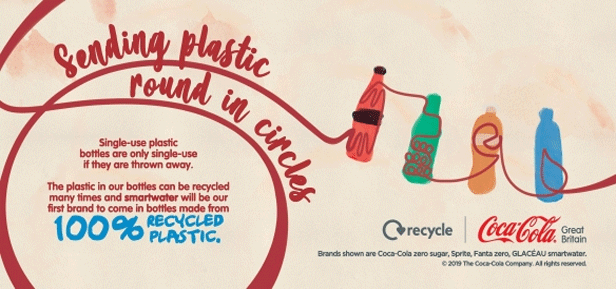 But Coca-Cola still realises there is a long way to go in a world where 500bn plastic bottles will be consumed every year by 2021.
What makes a good DRS?
According to Brown, a functional DRS comprises the steps below, going from the purchase of a beverage to the potential of three different methods of reimbursement.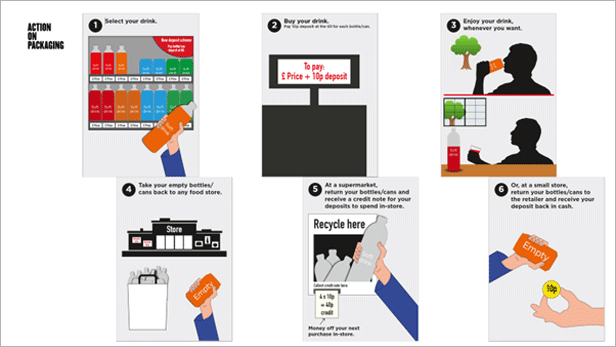 As far as the administration of the scheme, he underlined nine guiding values, based on experiences of existing DRSs on the European continent.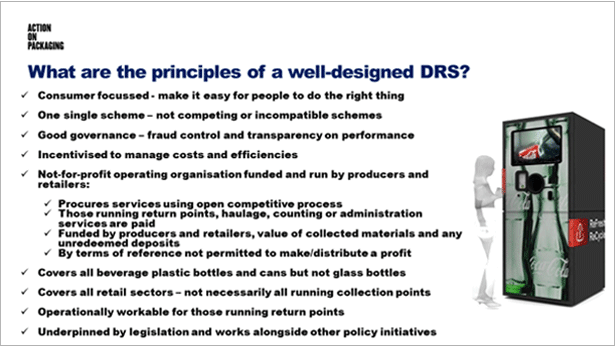 The current state of play in the UK with regards to the roll-out of DRS is a complicated one – with Scotland set to establish its own programme ahead of the rest of the UK. This has the potential to muddy the waters of an already complicated situation.
Fortunately, there is plenty of evidence of what not to do when setting up a DRS. In New South Wales, Australia, their "Return and Earn" scheme ran into problems, promoted by:
Not being run by a single, not-for-profit organisation
A lack of infrastructure in place at time of launch – only 6 per cent of the required return-points were up and running
Machines unfit for purpose
Commonplace defrauding of the system was – the scheme ended up compensating retailers up to 80km from state borders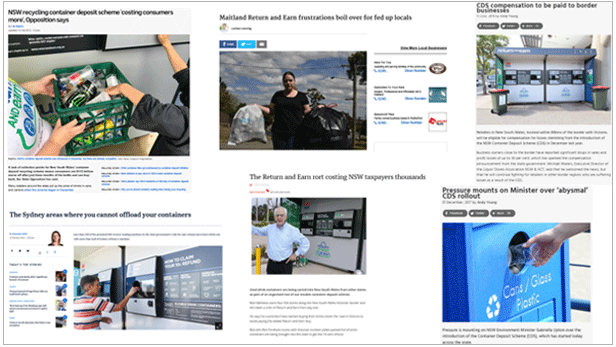 The benefits of a well-run DRS are plain to see, with recycling rates in European countries that have DRSs in place topping the 90 per cent mark.
Learning from past successes and mistakes, industry should be able to come together and ensure policy makers understand the opportunities of a well-designed scheme, as well as the unintended consequences of a rushed one.
Why have GS1 UK set up the DRSIG?
The DRS interest group (DRSIG) was created to inform GS1 UK members about proposed labelling options and their associated impacts in the advance of the roll-out of DRSs in Scotland and the wider UK.
The DRSIG will meet to discuss the following topics ahead of making recommendations for consideration by the DRS implementation advisory group (DRSIAG):
Scheme administrators should consider using an industry wide product-registration service that extends beyond DRS to solve multiple use cases. GS1 UK is seeking to work with producers, retailers and RVM manufacturers to understand the implications of sourcing, validating and distributing all the mandatory product information included in the proposed DRS data model.

For this to be workable, the sharing of data between multiple partners – who are likely operating different IT systems and using incompatible taxonomies – can most efficiently be solved and future-proofed using a standardised approach.

Producers don't want to log in to yet another portal to register and maintain product information, they want a single point of connection for the dissemination of their data.
 
The scheme administrator's IT system should avoid using proprietary coding. This could have a negative effect on labelling, locking a producer into a specific technology solution. It also restricts data sharing and the transparency needed to build trust in the scheme's overall administration. Standards have a key role to play in any forward movement, and consideration for the future of on-pack labelling.
 
Scheme administrators should consider making a registry of collection points available to app developers. Recyclers can then find rich information about their nearest collection points, from current capacity to location and type of collection – either reverse-vending or manual.

If every collection point registered with a scheme administrator is marked in a standard way, for instance with a GS1 Global Location Number, that will support and future-proof traceability for years to come.
 
Traceability and transparency have become key enablers for trust and safety in the supply chain, not only between consumers and producers, but also between manufacturers and their suppliers.

Producers should be incentivised to invest in innovative solutions that reduce scheme administration costs and the potential for fraud.