Creative Nature CEO and founder, Julianne Ponan MBE, is one of 2 million food allergy sufferers in the UK.
As a sufferer of anaphylaxis to all nuts, some seeds and certain additives, having a full understanding of what was in the food she ate was not only a matter of personal preference, it could be a matter of life and death.
Having spent years carefully studying allergen information before deciding what to buy, Julianne had become frustrated with the current options available on the "free from" market. 
To make matters worse, even when she was able to find products she wanted to eat, she often found that sneaky "may contains" and other alibi allergen statements meant she could not be certain that the product was safe.
Realising there was a gap in the market for delicious, allergen-free superfoods that could be enjoyed with confidence, Julianne set out to create a brand that provided her fellow allergy sufferers with just that.
"People like me can feel isolated, excluded and humiliated when we need to ensure that what we eat or drink is safe for us - and that can include what others eat or drink around us" she explained. "I seek to change that and to encourage a more inclusive and empathetic attitude".
Humble beginnings
When Julianne bought Creative Nature as part of a management buyout over ten years ago, it sold candles, incense and oils. It also had debts of more than £56,000.
Over the following 18 months, she transformed the company into a superfood brand and gradually brought it back into profit.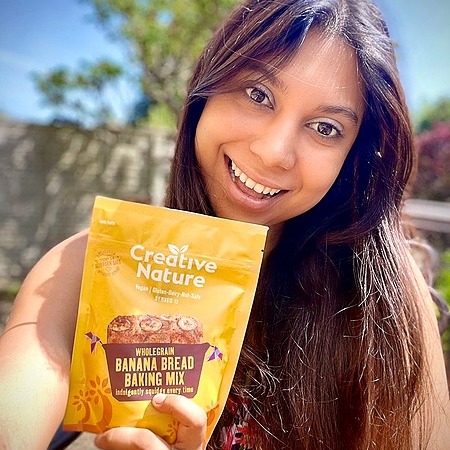 "
Every entrepreneur has this moment when they jump of that cliff and build a plane on the way down. That was the moment where I thought we've got to make this work."
Julianne Ponan MBE
Founder & CEO, Creative Nature
Scaling the business
During the first two years, Creative Nature's products were mainly sold to wholesalers who would then distribute them to health food stores. In addition, sales were made at food and consumer shows, direct to independent health stores and D2C online.
With the brand's popularity rising, Julianne knew it was time to take the business to the next level. "We wanted to scale up" she said, "and the next stage for me was going on Dragons Den". I felt that even if we didn't get the money, it would be a fantastic PR opportunity and could get our brand in front of so many people."
Despite receiving an offer from the Dragons, Julianne decided to turn the investment down. "It was a really tough decision" she said. "The valuation was just not right for the business at that point. That was a big step for me in my personal journey, as well as my business journey."
One of the first major hurdles she encountered was failing to raise the necessary funds via crowdsourcing. Undeterred, she and her team took their "last bit of marketing budget" to that the Natural & Organic Products Europe show, one of the industry's leading events.
There she was able to secure listings with Ocado and Tesco which she then used to leverage listings with other leading retailers including Sainsburys, Asda, Wholefoods, TK Maxx, Amazon and more, before setting her sites on oversees growth.
"We have always wanted to take creative nature global" Julianne explained. "That has been my vision since we first started." Today Creative Nature is enjoyed by loyal customers all over the world, boasting sales in over 16 countries including Singapore, Germany, Australia, USA and the UAE.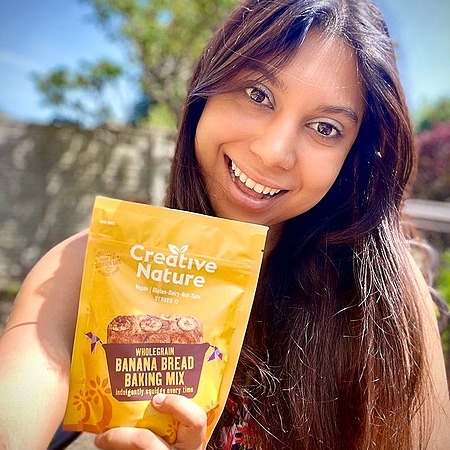 "
Our first interaction with GS1 was understanding what barcodes we actually had. I didn't know what I needed or how I was supposed to put barcodes on pack. GS1 UK gave me all that information and I was able to get barcodes on my products within minutes."
Julianne Ponan MBE
Founder & CEO, Creative Nature
Joining GS1 UK
Julianne benefitted from becoming a GS1 UK member early in her business journey.
GS1 barcodes have not only provided a solid foundation for her business, they have also helped Julianne provider her customers with the transparency they need to stay informed and protected.
"Creative Nature stand for being top 14 allergen free" she said. "So when we put that product on shelf, I need to guarantee to that customer that it truly is top 14 free."