1: Using your company prefix
You'll need a unique number for every type of product or item you wish to sell – and each number must start with your GS1 Company Prefix.
Although this unique number is often referred to as a barcode number, its full name is a Global Trade Item Number – or 'GTIN' for short. The barcode is simply a visual representation of the number itself.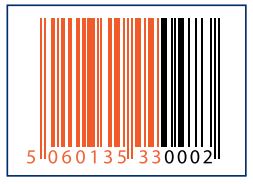 As a GS1 UK member, we allocate you a unique Company Prefix as a 'base' for you to create GTINs to identify your products. The example here shows a typical barcode and GTIN with the Company Prefix highlighted.
How are company prefixes used?
Your Company Prefix will contain between 6 and 11 digits – depending on how many GTINs you need. You can use your prefix to create different types of numbers depending on whether you're identifying products, cases, pallets, assets, locations or other items.
Once your prefix is live, no other organisation may use it to create numbers. It is yours to uniquely identify your products – so they're ready for trading.
And if you need more GTINs then you just contact us to licence an additional Company Prefix.
How do I manage them?
You can manage and maintain all your company prefix numbers using the secure online service called My Numberbank.