Getting started in online
2: Identifying your products online
Unique numbers help you – and your trading partners – to identify, track and trace items anywhere in the supply chain. They also help streamline processes such as automated ordering or invoicing.
Online retailers and marketplaces will require you to assign a GTIN to allow you to upload your product information for any item you wish to sell through their platform.
You can then use the same numbers in barcodes if you want – if you are planning on also selling the product through physical stores then you will need to do this.
Products requiring unique identification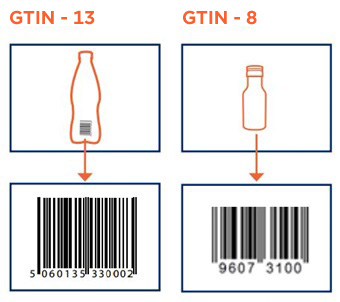 You'll need a GTIN for each type of product or item that needs unique identification for pricing, ordering or invoicing. For example, GTIN 5012345678917 could be a 330ml bottle of fizzy drink.
Each time you produce a new type, or variation, of a product you must use a new GTIN to identify it to prevent confusion – something that's especially helpful when retailers are ordering from you. For example, for 330ml bottle of diet fizzy drink could have a GTIN 5012345679013.
If you are physically barcoding your product and it is too small for the usual-sized 13-digit barcode you'll need to use a special 8-digit GTIN and barcode. These are limited and you must apply to us to get one. You can do this here.
Find out more about the rules for allocating GTINs for products in Step 3.
Where can I create and store my numbers?
The secure My Numberbank service allows you to keep an accurate record of what GTIN-8 and GTIN-13s you have assigned to which product or case – all in one place. It means you can quickly add and edit products and their descriptions at any time (with the exception of GTIN-8, which you can't edit online, as you must tell us their descriptions when you order the numbers).