TrueSource jargon buster
Cutting through the jargon and understanding the benefits for your business
What is Global Data Synchronisation Network (GDSN)?
The Global Data Synchronisation Network (GDSN) enables trading partners to globally share trusted product data. You can exchange product information with business partners in an automatic and efficient way that ensures brand integrity.
For you, this means that your product information is shared in the right format and is correct in every foodservice, retailer or government database that you have shared it with – giving complete confidence that everyone has access to the same, continuously refreshed, product information.
What is TrueSource?
TrueSource is our data pool and it allows you to enter your product information into a single system. You can then share, maintain and manage all your product information securely in one place. When you need to share your product information with trading partners or regulatory databases, it's automatically checked against the GS1 Global Registry. You can then automatically publish it in the correct format straight from TrueSource using the Global Data Synchronisation Network (GDSN).
What's the GS1 Global Registry?
Each organisation in your supply chain needs to join a data pool, which is certified and tested by GS1, which will then connect to the GS1 Global Registry.
The GS1 Global Registry is a central directory which keeps track of your connections, guarantees the uniqueness of your product information and helps ensures compliance with global GS1 standards.
When do I need to use GDSN?
Large retailers based outside of the UK (such as Walmart, Carrefour, Delhaize and Albert Heijn) and foodservice operators here in the UK require your data to be used in the GDSN.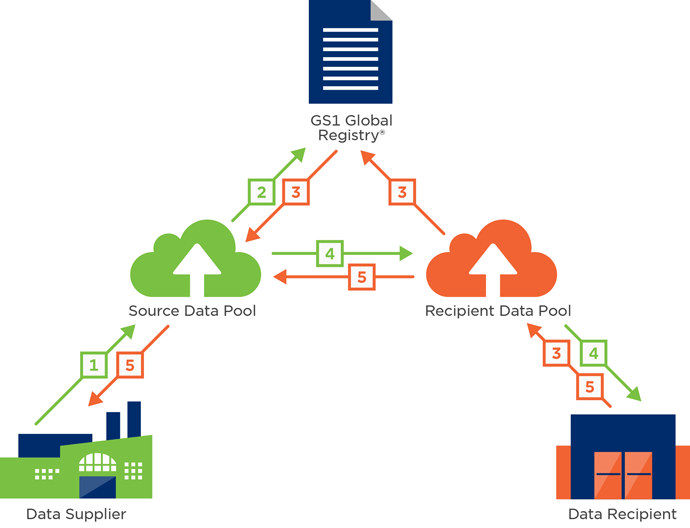 So, what are the benefits for my business?
You can share, maintain and manage all your product information in one place
Your customers can access trusted, real-time, product information
If you need to change your product information, you only need do it once. Every supplier, retailer or government database you share this information with will automatically be updated
Build better business relationships by publishing accurate – trusted – product information directly to your trading partners
Eliminate manual processes and reduce errors from your current processes
Reduce data management time errors
Reduce distribution costs
Bring new products to market quickly and simply
Comply more effectively with nutrition and healthcare standards and regulations
What support do I get by using TrueSource?
Local support based here in the UK - we would never dream of outsourcing our customer service to third parties
Your own dedicated account manager for support and training
There's no limit to the number of products you can enter and publish
Easy to use templates to add your items to the catalogue
You can bulk-upload your product information, making it easy to get going from the outset
Bulk upload tool
We've improved the bulk upload Excel template for those who prefer to use MS office tools. Contact us to get the latest version.
Ask one of our experts about TrueSource
T: 0808 17 88 794 (or 020 7092 3504)
E: TrueSource@gs1uk.org
---