We're helping the foodservice industry solve some common problems in the supply chain
As consumer expectations change, Foodservice operators are being challenged to respond. Long supply chains, in some cases based on manual systems and processes, can hamper foodservice operators from obtaining and providing accurate and detailed information efficiently.
Wherever you are in the supply chain
Wherever you are in the supply chain, GS1 standards enable your business to run more efficiently, saving money whilst supporting faster and safer trading relationships.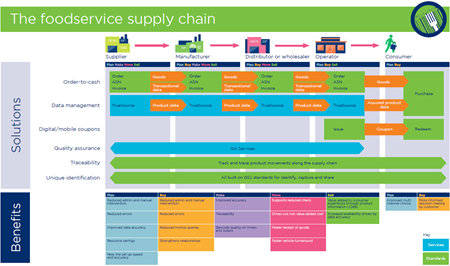 From farm to fork
By enabling the unique identification and smooth exchange of products and information – from source to consumers – GS1 standards and solutions create the foundation for successful foodservice operations.
The GS1 System is founded on a common set of global identification numbers – GS1 Identification Keys – for products, companies, locations, services, assets, logistics units or customers. This enables organisations to see more clearly what's going on in their supply chains and share accurate, real-time data with their trading partners and consumers.
£80 billion and growing
The UK foodservice industry is worth £80 billion and growing.
We work with our 6,000 members who supply, manufacture, distribute or sell to this sector – helping them streamline their supply chains and meet food safety requirements – by providing accurate product information using our TrueSource service.
TrueSource data pool solution:
Keep track of key product features in one place through an easy-to-use online service
Manage and update information and ensure there is only one single version of all your product information
Maintain good business relationships by publishing accurate product data directly to your trading partners
For more information, read our TrueSource brochure.
GS1 standards already save the retail industry £10 billion a year. Just imagine what we could do in the foodservice sector.
To find out more about our work, contact us or read the latest news below.