Meet Good Bubble
Good Bubble is an award-winning, naturally-derived and organic range of toiletries for babies and children.
Their founder Amy Wordsworth, takes our Q&A session.
How and why did you start the business?
We started the business in 2014. We are a small but mighty team of four females, located out of our manufacturing site in Middleton, Manchester.
Do you trade with any partners/channels?
Yes, we are a multichannel business. The brand is now available on Amazon, in all major Boots stores and Holland & Barret, amongst others in UK and is also making traction in international markets.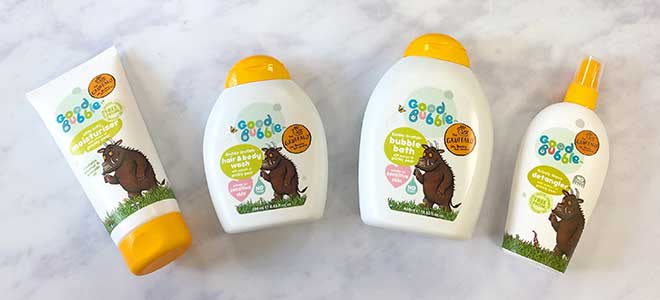 What is a typical day like for you?
Every day is so different, but most days we start with a quick team catch up on any orders that are being fulfilled, I'll look at production and stock to make sure we have enough based on forecasts and we'll crunch the financials.

There's usually at least one new product development project on the go – currently we have four, so there are a lot of design briefs and meetings with suppliers; taking a look at materials, colours, extracts and having a good sniff of all the different scrummy smells!

Then there's chats around formulations with the lab team, marketing plans, photo shoots for product launches...not much really, ha-ha!
What are the main pros and cons to running your own business?
It sounds so cliched, but it really is a roller coaster; the highs are so high, rewarding and fulfilling and the lows are sleep-stopping, anxious, nail-biting moments that have given me more than a few grey hairs! Nothing motivates me more though, than carving my own career, growing a brand and developing products that are loved by little ones (and big ones too!)

What's your biggest challenges for the business - what keeps you up at night?
As a small business, funding is probably our biggest bugbear. There are so many dreams that I have for Good Bubble, but it's breaking them down in to manageable, and more importantly, affordable steps!
What are your plans for the business for the next 12 months?
We really want to establish ourselves as the kind bath time brand. Kind to the skin – I plan for all our products to be clinically tested and proven within the year.

Also kind to the planet – last year we moved to recycled plastic packaging on all our bottles and we will soon launch a new range with innovative sugarcane packaging, that has a much lower carbon footprint than standard plastic. There's so much more to do with plastics and packaging for bathroom products and we really want to make a difference.
Tell us an interesting fact about you?
I almost fainted on Dragons' Den in front of 3.1 million viewers but managed to turn it back around and secure funding from Deborah Meaden!
Who inspires you?
I'm inspired by so many people on a daily basis, but Greta Thunberg has started an incredible movement to get a global audience to open their eyes on the climate crisis and fight to protect the planet for the next generation. Her and my mum – Sue!
What top tip/piece of advice would you give to other brands/sellers?
Do your own thing and don't give up on it! Originality and resilience are key.
For more visit goodbubble.co.uk or follow them on Twitter, Facebook and Instagram