Reflections on World Patient Safety Day 2020
As World Patient Safety Day arrives at this pivotal time for healthcare, head of GS1 UK's healthcare team, Glen Hodgson, reflects on the impact of patient safety and health care worker safety.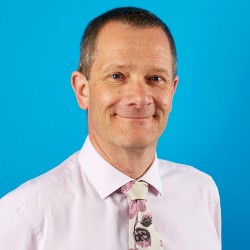 As head of healthcare for GS1 UK, patient safety is at the heart of everything we do. Using our GS1 unique identifiers for every person, every product, and every place, serves to improve data capture to enable traceability within clinical settings.

Through point-of-care scanning, we are able to capture vital data in real time throughout the global healthcare supply chain or patient pathway. It is this access to accurate and up to date data, that allows the clinical insights necessary to make informed decisions and to improve patient safety.
However, when we consider patient safety, the majority of the time, we reflect on this from the view of the patient (which might I add is not wrong) but we can be guilty of neglecting the role of health and care workers at the centre of this.
So, it makes sense for this World Patient Safety Day 2020, to make a poignant reminder that health worker safety is a fundamental prerequisite to patient safety.
Without assurances that staff are able to work safely with appropriate measures in place, the responsibility of delivering exemplary care becomes harder to do. After all, it is not easy to protect others when you yourself might be at risk.
Nothing could be more reflective of this, than the devastating pandemic impacting the global population. Despite their own risks, health and care workers put themselves on the frontline to safeguard patients 24 hours a day, every day of the year.
As the World Health Organisation (WHO) website explains: "The COVID-19 pandemic has unveiled the huge challenges and risks health workers are facing globally including health care associated infections, violence, stigma, psychological and emotional disturbances, illness and even death. Furthermore, working in stressful environments makes health workers more prone to errors which can lead to patient harm[1]."
For every patient error that occurs, there is a ripple effect. There is a direct impact on the patient, but relatives and care givers are also indirectly affected.
Medication errors are a prime example of this. Such medication errors are estimated to cost the NHS £1.6bn a year however, using standards such as GS1, can make a big difference in reducing medical errors through point-of-care data capture.
According to a study conducted by the universities of Manchester, York, and Sheffield, an average of 712 deaths a year were identified as being definitively linked to adverse drug reactions being the primary cause of death.
That's not just 712 people – this impacts the patient's family, the care giver, and the care giver's family too – the so-called 'second victims'. The ripple effects for clinicians can have tragic consequences and suicide rates for clinicians has been estimated at between two and five times than the general population[2].
Plus, let us not forget the fact that for some, health worker safety means working in unpredictable environments. According to the WHO, "between 8 per cent and 38 per cent of health workers suffer physical violence at some point in their careers. Many more are threatened or exposed to verbal aggression. Most violence is perpetrated by patients and visitors."
This World Patient Safety Day is chance to remember both sides of the coin when it comes to patient safety – we certainly can't have one without the other – "Safe health workers, Safe patients".
Thank you to all the health and care workers around the world. Speak up for health worker safety!
#WorldPatientSafetyDay2020 #WPSD2020
References: