Four reasons smart device-based computer vision improves patient care
Category: Guest opinion piece
---
In a series of blogs from our 2019 healthcare conference sponsors, Graeme Woodcock, sales manager – healthcare at Scandit assesses how smart device-based computer vision improves patient care
Healthcare providers can use mobile barcode scanning and text and object recognition (OCR) solutions to ensure safer and more efficient processes.
The days of manual documentation of critical patient-care workflows are ending. More and more healthcare processes are being digitised to ensure accuracy and portability, making patient care safer and improving outcomes across the board.
Barcodes and alphanumeric codes have become the principal containers of information in virtually all aspects of healthcare, from identifying patients to administering medication and managing equipment and supplies.
Until recently, healthcare enterprises have used dedicated scanners to capture and record digital information. Today, advances in mobile computer-vision technology make using smart devices such as smartphones, tablets, and wearables to scan and capture barcodes a faster, more flexible, more reliable and a less costly option than dedicated scanners. Computer vision software integrated into mobile apps, turns smart devices into powerful barcode and alphanumeric code-scanning machines. In the hands of healthcare professionals, these smart devices offer clear, quantifiable advantages to the execution of healthcare workflows. Leeds Teaching Hospitals NHS Trust saw a 95 per cent improvement in cost and time efficiency when Scandit software was implemented across 114 departments, as part of the UK Government's Scan4Safety initiative.
1. Computer vision software offers enterprise-grade barcode scanning performance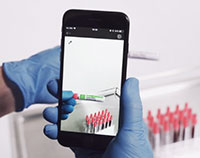 Computer vision software can be integrated into virtually any app running on a camera-equipped smart device.

The software is designed for enterprise-grade use with market-leading scan speeds and accuracy and is scalable to support large implementations. Regardless of environmental conditions, computer vision software quickly and accurately scans barcodes – even damaged or blurry codes – at a great variety of distances and angles.
Since the scanning is performed on a mobile device, the device can go to the code and not the other way around. This combination of robustness and flexibility is simply not achievable with dedicated scanners. And it is this flexibility that is particularly important for healthcare professionals managing patient identification, medication administration, and specimen or sterile fluid bag collection.
2. Augmented reality (AR) adds unprecedented insight into healthcare workflows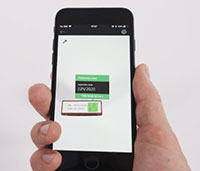 Computer vision-enabled smart devices offer AR functionality that enables users to view additional information about an item that traditional barcode scanners cannot provide.
The technique enables healthcare professionals to access critical data about medication, patient histories, lab work-ups or any asset in its most usable form, right on the device screen. This dramatically reduces the incidence errors in these processes, increases patient safety and ensures the highest quality of care.

In addition, mobile enabled smart devices with computer-vision capabilities, powered by Scandit, offer MatrixScan, a feature that scans multiple barcodes in one sequence to instantly locate, track and decode many items at once.


This functionality is particularly useful when combined with AR, which can superimpose important information – like specific patient instructions, inventory levels and expiry dates of medical supplies – onto a device's screen.

Healthcare professionals can leverage MatrixScan and AR to perform tasks such as counting inventory, reordering medication, and checking the freshness and completeness of a resuscitation trolley much faster than with traditional scanners. The time saved frees up healthcare professionals to focus more effort on patient care.
3. Smart device-based barcode scanning is much less costly than dedicated scanners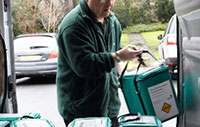 Any smart device equipped with a built-in camera can be transformed into a high-performance data capture machine – even low-end devices.

Some enterprises simply make a Scandit-powered mobile app available to employees who install it on their own smart devices to perform critical healthcare workflows. In either case, the cost of mobile devices with scanning software is significantly lower than using dedicated scanners.

ERS Medical, a provider of specialist patient transport and courier services to the National Health Service (NHS) and the wider UK healthcare sector, replaced the traditional personal device assistants (PDAs) they used previously, with Scandit-powered smartphones to increase the speed and efficiency of delivery of pathological specimen bags.

ERS Medical's drivers were able to increase scan speeds by 50 per cent, enabling them to move more quickly through their pickup and drop-off schedule. Instead of paying £800 for each new PDA, ERS Medical now spends just £100 for each smartphone. They also report that the cost of repairing or replacing broken smartphones is much lower. The cost savings here can be applied to improving patient care.
4. Mobile computer vision is aligning with GS1
Scandit is aligning with GS1 – the global standards organisation – to bring increased efficiencies to healthcare management and supply chain through the use of barcode scanning on mobile devices.

Superior scanning performance and dramatically lower total cost of ownership make managing healthcare workflows with computer vision-enabled smart devices an attractive solution.

Healthcare trusts and suppliers in the UK and worldwide already depend on Scandit technology to power mobile apps for crucial enterprise workflows within operating theatres, pharmacy/pathology and on hospital wards.

This enables each enterprise to improve bed management, quickly perform and record patient observations, safely administer medications, support non-clinical task workers such as porters, effectively manage their inventory and confirm proof of delivery.

Leeds Teaching Hospitals NHS Trust is one example where these benefits have been seen. After implementing Scandit software in 114 departments (as part of the UK Government's Scan4Safety initiative), the trust saw a 95 per cent improvement in cost and time efficiency.
Conclusion
By any calculation, using mobile smart devices with computer vision capabilities to perform critical healthcare workflows is a smarter option than using traditional scanners.

The barcode is the most ubiquitous information carrier on earth, and virtually everyone uses a smart device and is familiar with mobile apps.

Factor in the cost savings and ability to innovate with Scandit's future-proof, robust and tangibly successful technology platform, and it's an easy decision to make.
About the author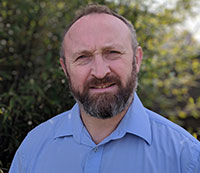 Graeme is an ex-air traffic controller who moved into healthcare technology through the gradual pull from the rest of his family being doctors. In 2007 he was the first healthcare sector manager for Symbol Technologies (acquired by Motorola Solutions then acquired by Zebra technologies). Most recently he has worked delivering acute clinical mobile workflow solutions using android-based services before heading up Scandit Healthcare to drive the uptake of "software driven" barcode capture using smart devices. Graeme says, "One thing I've learned is that technology evolution in the NHS is no different to clinical process. The evidence will drive the adoption".
About Scandit
Within the healthcare industry, trusts and suppliers can use Scandit's technology to create and power mobile apps for crucial enterprise workflows like operating theatre, pharmacy/pathology, bed management, observations, medicines administration, non-clinical task workers (porters), inventory management and proof of delivery. Many of the world's most innovative and successful companies are benefiting from Scandit's enterprise-grade mobile data capture platform, including GE, Siemens and DHL.
---
Related
GS1 UK healthcare conference 2019
GS1 barcode usage increasing in healthcare products