We're pleased to announce the Silver Line as our new charity partner
We'll be working with the Silver Line for the next two years.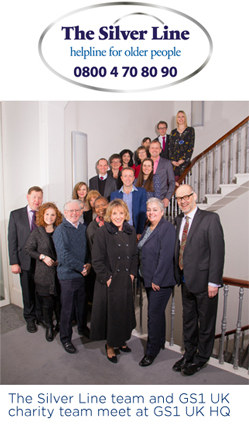 The Silver Line is a relatively new UK charity – launched just two years ago – and aims to support older people with the effects of loneliness. More than half of all 75 year olds and above in the UK live alone and one in ten suffers "intense" loneliness but is reluctant to ask for help.
The Silver Line offers a confidential, free helpline for older people across the UK to phone for information, advice or just to have a chat. The Silver Line Helpline has received over 680,000 calls – 53% of callers saying they had literally no-one else to speak to. They now receive around 1,300 calls every day from lonely and isolated older people. Over 2,000 volunteers, the Silver Line Friends, make regular weekly friendship calls to older people.
Our staff is underway with planning many activities for the course of the partnership – with ideas flooding through of sky diving, sporting challenges, quiz evenings and casual dress days at the office. Keen to provide more than just fundraising, we are also looking at ways that GS1 UK, as an organisation, can support the Silver Line.
Gary Lynch, CEO at GS1 UK said: "It is an absolute pleasure to be working with the Silver Line for the next two years as our partner charity. The team at the Silver Line is full of passion, energy and commitment to supporting the older people in the UK. We look forward to engage in our plans to promote the work they do and raise funds to support their activities."
Nina Gopal, Director of Fundraising at the Silver Line commented: "We're delighted to partner with GS1 UK for 2016/17. Their clear commitment to working with the Silver Line permeates the entire organisation with plans to embrace income generation through creative staff fund-raising, volunteering, skills sharing and gift in kind. They've even re-named their conference room after us with specially created posters on its wall. We truly look forward to working with them, which in turn will impact the lives of many lonely and isolated older people in the UK."
We all look forward to closely working with the Silver Line and provide them with our support, help, friendship and, of course, the funds we'll be raising.