Do you comply with UDI?
If you supply medical devices anywhere in the world, chances are you have to comply with strict regulations – and some are pretty daunting to say the least

Here we talk about Unique Device Identification (UDI) regulations in Europe and in the US.
If you supply medical devices into other global markets, get in touch with us and talk to one of our standards experts. After all, one of the many advantages of being a global standards organisation means we can draw on local knowledge – the world over.
What is UDI?
Essentially, it's the ability to uniquely identify, track and trace individual medical devices through the supply chain and, importantly, into a patient pathway. It goes without question this can fundamentally improve patient safety and it even enables the ability to remove an unsafe or recalled product from harm's way before it reaches a patient.
To help achieve this industry ambition, the EU and the US have both published UDI regulations for medical devices. These regulations join a globally harmonised framework for identification of medical devices – enhancing quality of care, patient safety and business processes. Although, they do take similar but different regulatory approaches, with different compliance timescales and different databases for manufacturers to update. This means added complexity and lots of hard work for all involved.
Remember
Implementing GS1 standards will enable you to meet these regulatory requirements in addition to making cost savings, harnessing better quality data and improving efficiency throughout your business.
Compliance timelines in the EU
The European Union published the Regulations on medical devices and in-vitro diagnostics in April 2017.
UDI assignment and submission of UDI core data elements to the database
Placement of the UDI carrier
e.g. barcodes on products
Implantable devices and Class 111 devices
25 May 2020
25 May 2021
Class Ila and Class llb devices
25 May 2020
25 May 2023
Class I devices
25 May 2020
25 May 2025
Reusable devices that shall bear the UDI Carrier on the device itself
25 May 2020
2 years after the date applicable for its respective class of devices
Class D IVDs
25 May 2022
5 May 2023
Class C and B IVDs
25 May 2022
25 May 2025
Class A IVDs
25 May 2022
25 May 2027
Compliance timelines in the US
The US Food and Drug Administration (FDA) has had a Unique Device Identification (UDI) system for medical devices sold into the US since 2013.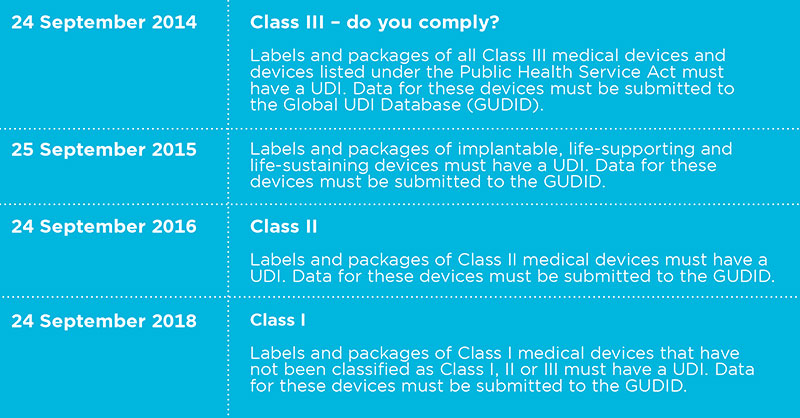 What does this mean for me?
Essentially, as a medical device manufacturer you have to apply a unique identification number to each medical device label, its packaging and, in some cases, the device itself. You must then share information about each device with regulatory databases in in the US and in the EU – in addition your customers requesting this extra rich information about your products too.
Getting the help and support you need
As the experts on GS1 standards, we can help you comply with meeting medical device requirements in the EU, in the US or in any of the markets you serve. Our range of training and consultancy services is helping medical device manufacturers of all sizes to understand the impact on them, develop a rigorous adoption plan and implement it across their organisation.
Remember, implementing GS1 standards not only enable your business' compliance with UDI regulations – the are a catalyst for your business to operate more efficiently, save money and better meet the needs of your customers too.
Free introductory webinars
We offer regular free webinars that explain the background to the UDI regulations and how GS1 standards ensure you comply.
Consultancy where you need it
If your organisation requires a deeper level of support to truly understand the impact of global regulations or even local NHS requirements, our team of professional standards consultants can work with you to explore your organisation and build an actionable plan to deliver what's required for you.
We offer a 1 day consultancy service or a full bespoke discovery of your business.
Contact us to discuss how GS1 standards can help you