The adoption of Global Location Numbers (GLNs) plays a central role within healthcare regulation. In some cases their use has been mandated, but they can also be used to support compliance with wider regulatory requirements.
Learn more about the value of GLNs in each of the healthcare regulations outlined below.
Global Location Numbers (GLNs) are an essential component of the coding requirements issued by the Department of Health and Social Care (DHSC) as part of the NHS Framework Agreement for the Supply of Goods into the NHS.
It specifies that all suppliers providing goods to the NHS should ensure "full compliance with any Guidance issued by the DHSC in relation to the adoption of GS1 and PEPPOL standards". And the adoption of GLNs is required as part of ensuring compliance for suppliers, and the trusts they work with, to be using these standards by 2020/2021.
It relies on two key components:
The use of GS1 standards for product identification, location identification and data synchronisation

The use of Pan-European Public Procurement Online (PEPPOL) messaging standards for the electronic exchange of transaction information such as purchase orders, delivery details and the exchange of invoices
The standards enable product and location information to be exchanged across the network seamlessly to support the delivery of better value and improved patient safety.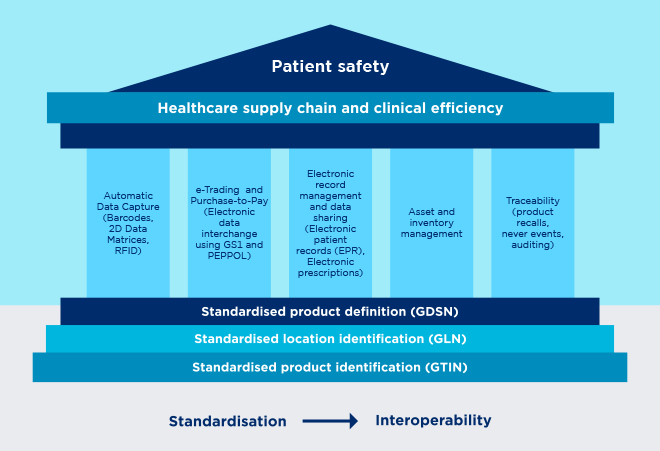 As part of the eProcurement strategy published by the Department of Health and Social Care in 2014, suppliers and trusts should be using GS1 identifiers and PEPPOL messaging to support the transition to e-trading and e-invoicing.
The eProcurement compliance document for medical devices and in-vitro diagnostic devices published in 2018 states the following for trusts and suppliers: 'Send invoices to NHS PEPPOL access points electronically from your PEPPOL access point to NHS access points to include the GS1 identifiers (Global Trade Item Number, GTIN and Global Location Number, GLN) to customers who are capable of receiving them, including NHS Supply Chain'.
This enables efficient purchase-to-pay processes across the healthcare sector, connecting the transfer of accurate product and location information between manufacturers, wholesalers, distributors, suppliers and the NHS trusts they supply.
For both the EU Medical Device Regulations (MDR) and the In-vitro Device Regulations (IVDR), there will be greater emphasis on the post-market surveillance of products. This includes proactively monitoring device performance for re-certification, annual safety updates for higher-risk class devices, and rapid reporting of safety incidents.
As part of this, suppliers will now need to upload all medical device information including their Unique Device Identification (UDI) and/or Basic UDI-DI (BUDI-DI) into a central European database (EUDAMED) – the purpose being to allow for medical devices to be accurately identified throughout the monitoring process.
However, when it comes to product recalls, Medical Device Alerts (MDAs) and Field Safety Notifications (FSNs), the efficacy of GLNs comes into play. Using them enables devices to be traced through the supply chain to all relevant organisations where the devices was manufactured, distributed from or delivered to.
As such, the Medicines and Healthcare products Regulatory Authority (MHRA), have recommended that the Legal Entity GLN (unique organisation identifier) be used on all FSNs and MDAs for submission.
This will be particularly critical for medical device suppliers but will also impact trusts and NHS arm's length bodies responsible for the supply of goods into the NHS.
Similarly, this also applies to the Falsified Medicines Directive (FMD) which came into play in 2019. It was introduced as a measure to prevent counterfeit medicines from entering the supply chain and being issued to patients.
Using Global Location Numbers (GLNs) and Global Trade Item Numbers (GTINs), any counterfeit medicines can be tracked and traced from their point of origin through to their point of delivery/issue. Doing so enables them to be identified and removed from circulation as quickly as possible in the event of a medication safety alert or product recall.
If you would like to find out more about the role of GLNs in regulation why not sign up for one of our regular training sessions. We have dedicated GLN and place management training sessions for an introduction to location management, and LocationManager training which centres on the regulation and the benefits of LocationManager.
These requirements rely on the management of thousands of GLNs generated across each of the relevant stakeholders involved throughout the healthcare supply chain and patient pathway.
But how do you enable all stakeholders to have visibility of: 10,000 Legal Entity GLNs, 8,000 bill-to locations, 28,000 requisition points, 18,000 'ship from' locations and 90,000 'ship to'/'forward to' locations?
We have developed an online service, LocationManager, that has been designed to help do just that.