The value of the wristband
Patient wristbands can be found in many different forms, used as a means to identify any patients admitted to hospital at any given time.
In many cases these are digitally printed bands containing essential patient information such as the patient's full name, date of birth, NHS number and a medical record number (MRN) or hospital number.
However, in some cases patient wristbands are still hand-written, increasing the risk of being illegible or errors being made when patient information is being transcribed manually.
How patient identification works with GS1 standards
The patient receives a barcoded wristband upon admission. The wristband contains an unambiguous patient identifier, including the NHS number, which is encoded in a GS1 barcode to generate a globally unique means of identification.

This aligns with the NHS Digital standard for Automatic Identification and Data Capture (AIDC) for Patient Identification, DCB1077, which has been updated from ISB1077.
DCB1077 is an information standard that supports the accurate, timely and safer identification of NHS patients, by defining how to encode the NHS approved patient identifiers into a GS1 DataMatrix for patient identity bands.
The barcode is scanned at relevant points along the patient pathway, from admission through to discharge, recording events including patient observations, assessments and medicines administration.
Scanning a patient wristband enables accurate and real-time capture of patient information and any detail pertaining to investigations, minimising risk to the patient.
Positive patient identification is critical to healthcare as a key requirement to deliver improved patient safety and is also one of the core enablers of the Scan4Safety programme.
It provides an additional level of security for NHS staff, allowing them to ensure they have the right patient before conducting any investigations, performing any procedures or administering medications. Doing so, serves to prevent 'never events' across the NHS which are defined as 'Serious Incidents that are wholly preventable'.
Why not just use the medical record number?
There's no way to guarantee that a medical record number (MRN) is unique to an individual patient. An MRN may be unique within one hospital organisation, or even a trust.
However, as the healthcare landscape becomes more digital-centric and integration becomes more prevalent, the use of the MRN becomes less reliable. This is because there is a greater risk of another trust using the same MRN to identify one of their own patients in their locality.
And as records are shared and integrated, this will inevitably cause risk to patients. This presents a need for an interoperable solution, based on unique and open standards such as this, that are capable of enabling this to happen.
Why not just use the NHS number?
The NHS number, when used in isolation, is not globally unique as the same number may be used to identify a patient in neighbouring UK countries.
And, in some instances it is not always possible to obtain a positive patient ID as the NHS number is not always available when needed. However, by implementing DCB1077 it becomes possible to truly uniquely identify the patient.
What makes a GS1 patient wristband globally unique?
A patient's NHS number is used in combination with the NHS Digital GS1 company prefix and a calculated check digit to form the GS1 Global Service Relation Number (GSRN), for patient identification.
Using this provides NHS staff with: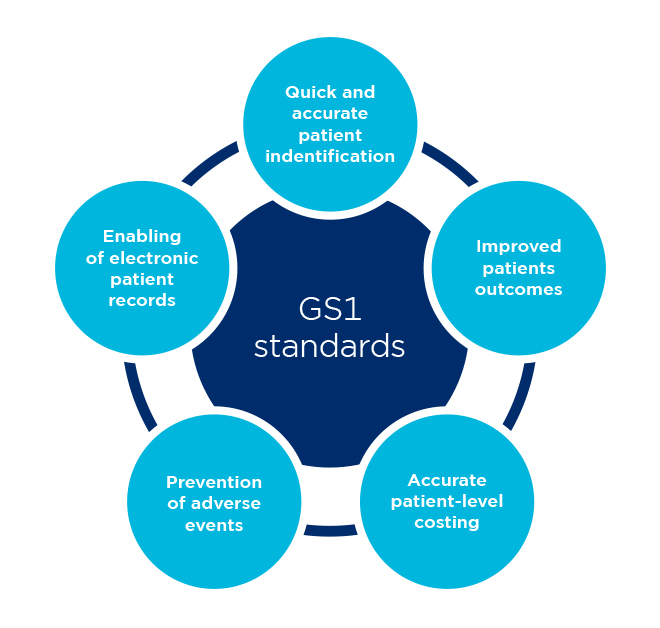 An accurate positive patient ID provides staff with access to detailed insights that can be used to improve patient care.
---