How to turn footfall digital
Brandon Willey
Founder and CEO of Hownd
So, here we are, at the beginning of season two of Between The Lines. Stuck at home. Some of us have forgotten what it's like to wear shoes. I never knew just how annoying pigeons sounded until recently.
Very little has changed since we broadcast our first episode at the beginning of March this year. Apart from basically everything. So, our second series of interviews will have the same SME focus as before, but now the added element of how to weather the global coronavirus pandemic.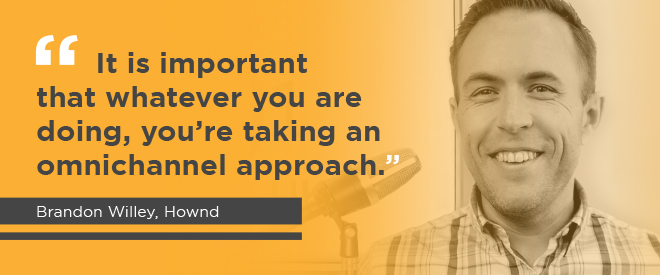 In our first episode, via the magic of Zoom (other video conferencing sites available), we speak to somebody who specialises in turning physical footfall into digital engagement, something that a lot of business will need to do in the new normal, Brandon Willey of Hownd.
Listen now

Useful information and links mentioned in the podcast:
Hownd website
Brandon Willey's Twitter profile

Subscribe to our podcasts on